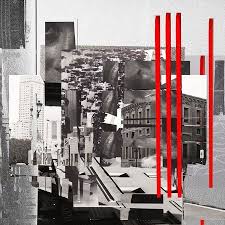 Sounding like a cross between Gang Of Four, Wire and Shellac, Egyptian Blue's debut EP may sound like it's full of familiar noises, but it's an EP which reveals itself to have heaps more intrigue. Signed to YALA Records, the label founded by Felix White formerly of The Maccabees, this Brighton bunch manage to create a sound which pushes and pulls the familiar sounds of post punk in a million and one new directions. First track 'Collateral' has all the spikiness of Wire and Gang Of Four mixed with melodies and a guitar riffs which soars skywards, whereas 'To Be Felt' has duelling guitars which manage to weave a melodic web around Andy Buss' and Leith Ambrose's shouted vocals which sound a bit like another one of my fave bands of recent years, the sadly now defunct, Spring King. 'Contain It' has more dagger like guitar lines, spewing their angular venom, a bit like a harder Franz Ferdinand, it's intense yet melodic at the same time.
Apparently they're big fans of King Gizzard & The Lizard Wizard too, which is evident on the EPs closer 'Aderrall' where verses are powered  by hefty basslines which are then joined by Shellac style thorny guitars before the tune takes off for a uplifting yet still dark chorus, before the guitars cascade away down an epic waterfall of sounds.
Egyptian Blue manage to exist in the area between gutsy post pink and more experimental and elongated jams. A revitalising and brilliant debut.
Egyptian Blue: Collateral Damage EP – Out Now (YALA! Records)