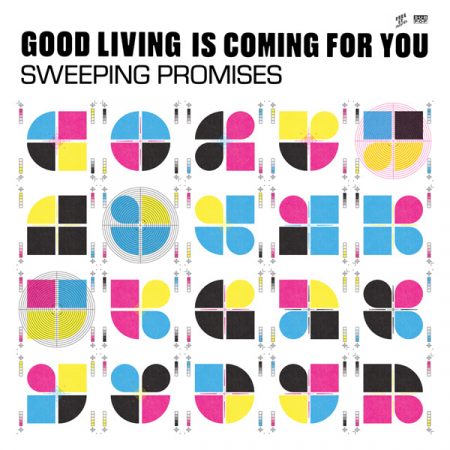 With their second album, Kansas based duo Sweeping Promises have got post-punk and riot grrrl influenced tunes that maximise urgency while retaining space and minimalism off to a fine tee. The ten songs that comprise 'Good Living Is Coming For You' pack plenty of inspiration into their tightly packed two and three minute durations. While the influences may be familiar to a long in the tooth reviewer, the sound is fresh and ultra-alive.
Opening track 'Eraser' begins with harmonised voices before leaping impressively into Sleater Kinney territory, throwing in some synth lines in a wary warning about giving up identity, power and freedom to what may well be an inner voice. Lira Mondal's bass line is insistent, Caufield Schnug's guitar hits a strong sonic pitch and their voices are powerfully raw in an earworm that gnaws firmly at the soul. 'Shadow Me' maintains the theme in its ode to retaining autonomy with choppy lo-fi guitar gaining instant attention with bass knitting infectious patterns around it. The title track operates as a threat, dominated by echoey Au Pairs style guitar as they set fire to domesticity, hotel rooms and magazines. 'Connoisseur of Salt' boasts scurrying bass lines to throw yourself around to, vocals to holler along with and saxophone lines that recall Laura Logic's contribution to X-Ray Spex while cautioning against "filling up your cabinets /With spices and salts to cover up / the bitter taste". 
Like a lot of recent leading albums, rather than frontloading the record with the choicest cuts 'Good Living Is Coming For You' saves some of its finest moments for a mid-album run. The songs often leap in with an arresting intro, 'Walk in Place' being the best example with Mondal's irresistible twitchy bassline, weaving around guitars that twist, turn, pop and funk with alacrity. 'You Shatter' maintains that tradition with a brief guitar blast presaging eerie garage synth, wondrous twisting bass line, voices fighting each other and harmonising, containing hints of the Bush Tetras. It is glorious. 'Petit Four' sets off with a fantastic bassline bouncing on a space hopper, adds Afrobeat guitar and pop keyboards, while their voices thrill and spill.
The anti-development spiel 'Can't Hide It' ("They're changing the landscape / Five stories going up / Another big old block / Can't go for a walk") has heavier guitar decorated with synth squiggles. 'Throw of the Dice' blends a scampering bassline, wonky guitar and surging synths while their voices push higher creating a fantastically edgy and euphoric effect. The album finishes with 'Ideal No' which chops like Gang of Four and whips us into shape with a Devo flourish.
Sweeping Promises are set to tour the UK in the Autumn including a show in Manchester at Yes on 22nd October. See you down the front. In the meantime, get prepared with your copy of 'Good Living Is Coming For You'.
Sweeping Promises: Good Living Is Coming For You – Out 30th June 2023 (Sub Pop)
Sweeping Promises Video: You Shatter