From time to time, one of our contributors will recommend an artist/band they think deserves to be brought to your attention. No record labels, PR companies, bands or band's management will ever have made these recommendations. It is simply one music fan putting their taste on the line in the hope of sharing good music. The questions are intended to give just a basic introduction to possibly your new favourite artist/band.
So without further ado, let's crack on with another introduction, in which Silent Radio's Vic recommends THE OTHERNESS for your audible delectation.
*****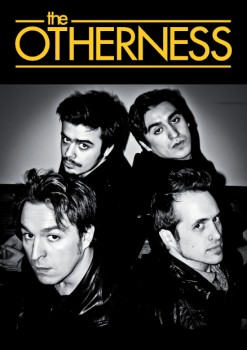 Who are ya?
We are THE OTHERNESS, Martin + Gonzalo + Pablo + Nit. A 4 piece rock band.
Where are you from?
La Patagonia, Argentina.
How long have you been doing what you're doing now?
Almost 200 characters ago.
Is being a musician your full time job?
yeah.
How would you explain your sound to someone's 90 year old grandmother?
Intravenous serum and/or Loud Speakers (if she can hear). "Grandma, do ya' remember when you had sex in highschool?". Ps. … and laxatives.
Are there any obvious influences in your music?
Yeah
Are there any not so obvious influences in your music?
Yeah
Apart from yourself of course, what other band/artist would you recommend our readers check out?
The others
Best place for people to find out what you are up to?
Social Networks such as
Soundcloud: https://soundcloud.com/otherness
YouTube Channel: https://www.youtube.com/OthernessTV
Band App: http://www.bandapp.com/theotherness
TW: https://twitter.com/Otherness
FB: https://www.facebook.com/OthernessRock
PN: http://pinterest.com/otherness/
And THE OTHERNESS UK TOUR DIARY: http://theothernessblog.wordpress.com/
Anything to declare?
#MoveOn