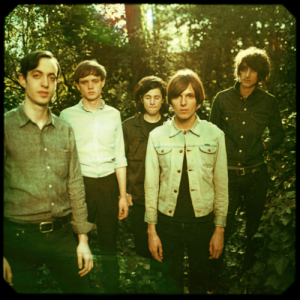 – ACADEMY 3, MANCHESTER –
The Horrors were unfairly labelled a novelty act by the music press when they burst onto the live scene in 2005. With their birds-nest hair, black eyeliner and tighter than tight jeans, many thought it was all just style over substance; a Cramps tribute band with a singer who looks a bit like Joey Ramone.
However, two years after the release of their critically acclaimed second album, 'Primary Colours', and on the eve of their much anticipated new album, its plain to see that the band have always been substance over style.
Preceded by the undulating and tuneless noise of support band, Toy, the  ghoulish five piece casually saunter on stage, looking as if they are surprised to be here after missing a couple of nights sleep living it up.
But despite their somewhat shambolic appearance they proceed to put on a spellbinding performance with plenty of punk-rock passion.
Their warped technology could be in no more apt surroundings than the cramped squalor of the Academy 3 (or should that be sauna) we find ourselves shuffling about in.
Framed manically in erratic bursts of violent light, Faris Badwan and co unleash a transfixing hybrid of grinding, industrial percussion mixed with whirling electronics.
Subscribing to the 'less is more' philosophy in terms of performance, the band is largely subdued throughout, save the disturbed animation of Faris, who occasionally jumps into the startled audience like a manic jack-in-a-box.
'A Sea Within A Sea' is the set highlight with its repetitive homage to electronic pioneers Kraftwerk, buzz-sawed in half by roaring sheets of metallic guitar, leaving the gurning throng in the frontline to dodge the errant sparks and static.
New single, 'Still Life', is instantly accessible and memorable – bridging the gap between melodic stadium rock (Simple Minds, U2) and apocalyptic post-punk (Killing Joke).
Other new tracks nod towards a baggier, more psychedelic sound, all with a punk rock sensibility. The variation of musical genres is astounding – you cannot tell which direction some of the songs are going in.
The Horrors are the place where art and machinery collide and whilst it may not be a brave new world, it is certainly a brilliant racket. They are a band pushing boundaries other bands simply cannot reach.