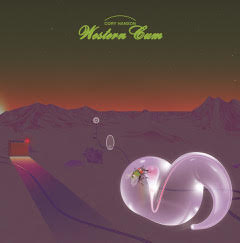 Three albums into his solo career, Wand's Cory Hanson has conjured distinct and magical flavours each time. Debut release, 2016's 'The Unborn Capitalist from Limbo', dealt out an unimpeachably lush psychedelia while its follow up, 'Pale Horse Rider', developed a country rock tinge. With his latest release, Hanson leaps into rock territory.
To these ears, rock is usually the most lumpen and moribund of genres but right from the opening bars of 'Wings', 'Western Cum' explodes out of the speakers, crackling with life and harmonic intrigue. It is a massive sounding record notable for production that merges the art of constantly whacking it up to eleven with clarity of sound. It mines 1970s rock for inspiration with its solid gold riffing in a similar way to how occasional collaborator Ty Segall breathes fresh life into that era's music. 'Wings' has a twist going from the opening line's reference to "a cherub child" to a concluding determination to track him down as "it's been ten years now since you gunned my father down".
Hanson's band, dubbed 'Slowhand', including his brother Casey on bass, nail that classic dual guitars, bass and drum line-up to make a life-affirmingly energetic yet melodic sound through the album's eight tracks. 'Housefly' oozes heat, poverty and malcontent as he comically fails to dispose of a household pest while his vocals have a sweet, appealingly vulnerable edge similar in tone to Neil Young. 'Persuasion Architecture' stands out for its dynamic shifts, starting with thrash metal riffing like a set of high revving souped-up cars skidding around a dustbowl, subsiding into quieter territory recalling the intro to Mercury Rev's 'Car Wash Hair' before introducing pedal steel, then launching back into ferocious headbanging while the narrator is "Nosferatu lost in his castle".
For the first three of its four minutes, 'Horsebait Sabotage' is no nonsense in its guitar tuneage, the hot and bothered lyrical mood maintained as our hero gets a job "unloading blocks of ice melting in my van" before an outro of Sonic Youth-esque guitar atmospherics. Most of 'Ghost Ship' has a more reflective pace bringing an opportunity to note Hanson's unusual lyrical choices )"the cocaine you are carrying is taped onto your balls" and "a travelogue written by seven dwarves") before some thrilling guitar work bursts through. 
'Twins' namechecks Arnold and Devito while having an FM radio AOR/country rock vibe and poking fun at uncertainties: "All your fears were here / Long before you were born / You've only just adopted them / They will never be yours". While the other tracks all clock in around the four-minute mark, the penultimate song 'Driving Through Heaven' sneaks past an epic ten minutes allowing for shifts in tempo of an angularity that recall Polvo together with mighty crescendos of more traditional rock behemoths. For much of its journey, the concluding 'Motion Sickness' is the most restrained piece on 'Western Cum' with some guitar lines that recall the opening to 'Band on the Run' before imperceptibly cranking up the volume and letting guitars dual it out.
'Western Cum' is a blast in all senses of the word, an album that demands to be played loud and rewards it fully.
Cory Hanson: Western Cum – Out 23rd June 2023 (Drag City)