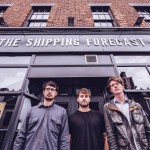 After a whirlwind year touring Europe with WIRE, completing a UK and EU headline tour of their own, as well as smashing SXSW on the dusty, drunken streets of Texas, Chichester based three-piece TRAAMS return rejuvenated and bloodthirsty with their first release of 2014 'Cissa'.
Their debut album 'Grin', produced by fuzz loving tastemaker Rory Atwell and MJ of Hookworms, perfectly encapsulated that restlessness that defines growing up in a small town. Beat up pothole filled roads lit by flickering orange street lamps as opposed to the surreal bright lights and never ending noise of the big city. It screams and yelps, twists and turns, relentlessly releasing a fractured, fearsome energy.
This new set of songs feels like it came from a similar place, whilst soaring through an as yet unexplored sonic world. They've reinstated their creative team of Rory and MJ, A producer power-duo if ever there was one, and it proves to be an inspired mix. Opening track 'Giddy' presents flashes of Deerhoof, mixed with the early angular brilliance of Let's Wrestle. It thuds and tumbles along, dragging you with it into chest-thumping bliss.
Tracklisting:
1. Giddy
2. Marbles
3. Selma
4. Carousel
5. Cissa