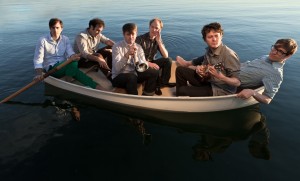 Beirut release their first album in four years with 'The Rip Tide' on 29th August. 'The Rip Tide' marks a shift from 'The Flying Club Cup' (2007) and his 'stop-off in Mexico' by way of the 'March of the Zapotec' EP (2009). The album will feature 'East Harlem' and 'Goshen' which appear on the band's new limited edition single out now.
Beirut leader Zach Condon's music is often synonymous with world travel. Since Beirut's last album, 2007's The Flying Club Cup, sang a love letter to France (with a 2009 stop-off in Mexico for the March of the Zapotec EP) many have asked where his songs would voyage next.
Recorded in Upstate New York, Brooklyn and Condon's hometowns of Albuquerque and Santa Fe, The Rip Tide marks a distinct leaping off point for Beirut. Musically, songs have a harmonic immediacy that contrasts the complexities of Zapotec's Mexican full orchestra compositions. These songs started as small melodies, conceived on piano or ukulele, then built upon by the entire band's contributions in the studio, before undergoing a paring down and retrofitting by Condon. What results is a record that sounds like it could have been recorded in one session, with rhythms matching the horns and contrasting the mournful strings.
The album is on Pompeii Records (via Forte Distribution in the UK), a label started and wholly owned by Condon. Pompeii is a fully independent, artist run, label and it is releasing The Rip Tide internationally. This extreme level of creative control is what the band has always preferred. Shows often sell-out because they choose to play smaller, more intimate venues. This connection directly to fans extends to The Rip Tide release itself, the desire to be able to 100% decide what their music will sound, look, and feel like, not to mention how it can be obtained.
'The Rip Tide' will be released internationally and independently on Pompeii Records (via Forte Distribution in the UK and Revolver in the US) a label started, and wholly owned by Condon with no large label affiliation whatsoever, so as to keep total creative control.
Beirut will be on tour in Europe throughout June and September. Tickets for Beirut's two headline shows in the UK are now on sale.
30-Jun London / Hyde Park w/ Arcade Fire
02-Sep Dorset / End of the Road Festival
04-Sep Stradballyr, IRE / Electric Picnic
06-Sep Manchester / Academy
16-Sep London / Brixton Academy