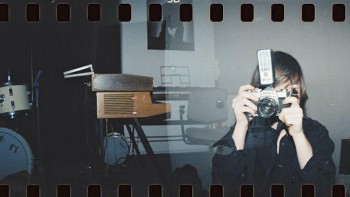 – SOUP KITCHEN, MANCHESTER –
On a summers day such as this, psychedelic 60's baroque pop is as good an idea as ordering a tall glass of iced lemonade. The Parklife festival is in full swing just north of here; Netherlanders Jacco Gardner's stage, however, is in a basement in the centre of town.
Patrons are in short supply, half of whom seem eager to continue their conversation throughout. Now Wave's Parklife after party begins here as soon the band have wrapped things up. It appears some have arrived early and aren't familiar with the pre-after-festival-party headliners work…
… but they should be, and they should bloody well listen.
I ate something that I'm allergic to before coming here, and so I feel kind of spaced out as it is. No drugs required for me as Jacco Gardner transport us back in time, blending The Beatles Ringo-related carnival carousel style work with Pink Floyd's contemplative mellow side and The Beach Boys harpsichord – following in the footsteps somewhat of   Dutch bands The Outsiders and Shocking Blue. The only light comes from a projector that covers the back walls (and the guitarist) with lo-fi – possibly Super 8 – images of the sun  shining through trees, and chic chicks in big hats.
'The One Eyed King' impresses early on – the sound is perfect and all encompassing – it's easy to drift into their world if you are willing to allow it. 'Summer's Game', 'The Riddle' and 'Help Me Out' are highlights from the superb debut album Cabinet of Curiosities, as well as the instrumental title track and 'Lullaby', which breaks down to a complete stop as if someone unplugged the record player and then plugged it in again.
They promise to return to Manchester soon, and then start the finale 'Chameleon'. Under more suitable circumstances, they will un-doubtably shine for a much more attentive and  respectful established fan-base. Music of this ilk is being recycled and reworked effectively in Australia and New Zealand at the moment, with a string of great bands finding large audiences worldwide. Jacco Gardner's own blend of influences provides something that was missing until now, and sounds very refreshing – in a retro kind of way.