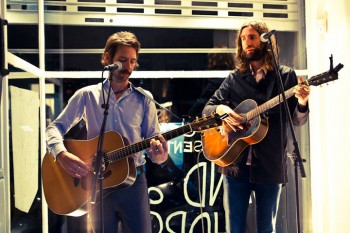 – THE RITZ BALLROOM, MANCHESTER –
It's been a long time since I last visited the Ritz. Many a Monday night of my youth (I) was recklessly wasted there before I was old enough to get into real clubs. It's hardly changed – by which I mean: 'they appear to have done no maintenance whatsoever'. The carpet is the same one as when I first went in 1996 – in many places horribly sticky with the spilled beer of generations. It doesn't quite match up to my memories of those heady days but I'm not sure whether that's cos I was young then, or because I'm not perpetually high any more.
Support band 'Darker My Love' sound a bit like America's answer to Manchester bands of the late 90′s – like the 'Meat Puppets' playing 'Charlatans' and 'Oasis' songs. They look like truckers, but steer clear of country and western. The set improves throughout and combines rock-n-roll, solid drums and tight riffs with an up-beat, poppy feel.
Before I review Band of Horses, I'd like to issue an apology: for some reason, I thought they were Scottish. They aren't, they're from America, and I was wrong. They display a variety of huge beards, mutton chops and a cowboy hat. Singer Ben Bridwell looks one of the lean, half-starved cowboys from a modern gritty Western – an image reinforced by screens beside the stage, flashing images of American forests, mountains, log cabins and a deer.
The music is really good – stuck between melancholy and euphoria, and congruent without sounding same-y. 'No One's Gonna Love You' sums up Band of Horses sound – the epitomic soundtrack to a break-up, with sparse, high vocals and plain, yet emotional lyrics. I'm quite looking forward to hearing more songs like 'Funeral' and 'Is There a Ghost', but these are two of the best songs of the night (although we'll gloss over the pretty drastic screw-up in the middle of 'Funeral'). The newer stuff lacks distinctive character, and blends into one, somewhat.
I'm not really connecting with the guys on stage – although they are putting the energy in. I decide it's because although they're making the right moves, they're making them because they want to make the right moves. They don't manage to make it a personal experience. It's the kind of music I'd rather enjoy horizontally on a couch with a big joint – just to see whether everything does seem magical when you're high.