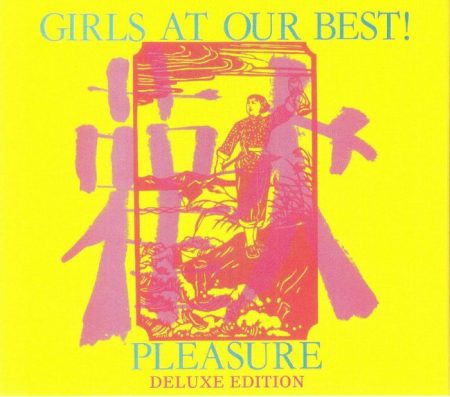 The post-punk era was a time where the original punk wave had opened the floodgates for DIY bands that were happy to shine brilliantly but briefly before disappearing back into civilian life. Girls At Our Best! were a prime example, releasing three singles and an album in the early 1980s, surely never envisaging that 40 years later they would warrant a 3CD reissue (if they could have imagined CDs).
Cherry Red have created a niche for themselves with lovingly compiled extended reissues. The first CD of the package consists of the 'Pleasure' album which reached number 2 in the independent charts, together with their singles, B sides and radio sessions for John Peel and Richard Skinner. GAOB! were instantly identifiable by Judy Evans' distinctive voice which gleefully cavorts over the line separating choirgirl from wayward karaoke and still sounds unique. It is ideally reflected on the opening title track with its bouncy, echoey drums and choppy guitars. The lyrical themes tended to snarky comments on sex, pleasure (naturally) and consumerism, often flippant: "Swim and splash and eating trash and chewing on some treat/ This is heaven we will die of pleasure no measure of leisure".
The album contains some vibrant, memorable pop songs, including 'Waterbed Babies' with its combination of abandon and sarcasm ("Jump up and down knowing that it won't tear") and the Garbo and Raquel referencing 'Fast Boyfriends' with its throwaway yet thought-provoking lines: 
"Some girls love a broken heart
Some girls love culture and art
I hope you don't think I'm a freak
But I always have to fall in love once a week
Here is my date today, wonder if I will pay"
They were perhaps unfairly perceived as being more frivolous than their Leeds compatriots The Gang of Four or all -women bands like the Slits and the Raincoats. An NME interview from the time is notable for guitarist, James Alan, namechecking Sparks which would not have been a common reference point then and 'Pleasure' does throw in a pleasing array of curveballs. 'Too Big For Your Boots' has a piano-led, neo-music hall chorus: "I know that he's very kitsch and what a cinch he's rich enough to be my sugar daddy". 'Fun City Teenagers' has jolly Mardi Gras clarinet and cheeky suggestions of shoplifting: "Something free colour TV/ I'm going on a shopping spree no charge for liberty — teenybopper rule". There are elements of Ye Olde English folksong to 'She Flipped'.
In its choppy rhythms, '£600000' is reminiscent of Bow Wow Wow, albeit without the magnificent Burundi drums, as they take aim at commodification ("Love me, wear me, drive me, tear me
I'll buy Girls at Our Best! Today)". 
The album is determined to list as many countries of the world as possible, seeming to mock a couple of years in advance the globe-trotting videos of Duran Duran but maybe also taking aim at the growing popularity of holiday programmes.
Tagging on the singles makes it apparent how beneficial the increased production values and varied instrumentation of 'Pleasure' had been. Debut single, 'Getting Nowhere Fast', seems a straight-forwardly staccato guitar song and went on to be covered by comparative whippersnappers of the Leeds scene, the Wedding Present.
Third single, 'Go for Gold', mocks pop stars and the B side is a cover of 'This Train', an American gospel song first recorded in 1922, best known for Sister Rosetta Tharpe's version in the 1930s, again showing a wider range of influences than their peers.
The second CD consists of a live concert at Edinburgh University from November 1981 which gives a sense of the band's humour when they introduced 'She Flipped as "a song we wrote with Beethoven last week", together with a 1978 demo track from The Butterflies, Alan and Evans' previous band, who metamorphosised into GAOB! Their track, 'Attribute', has echoes of early Siouxsie and the Banshees.
The third CD is dominated by a lower-quality bootleg recording of their New York Peppermint Lounge show, again from November 1981, together with an awkward radio interview which gives a clue as to why the band split after that ill-fated tour.
While these bonus CDs are interesting one-off curios, it is the original album that shows why you can never have too much pleasure.
Girls At Our Best!: Pleasure (Deluxe Edition) – Out 27th May 2022 (Cherry Red Records)