The waste campaign group, Love Your Tent and Buckinghamshire New University are making a call to festivals organisers and retailers alike to end the shocking wasteland culture at festival campsites. This call follows the publication of a Bucks New University survey – on behalf of Love Your Tent – into festival-attendees behaviour and attitudes, which highlights the huge negative impact on festival sustainability. In addition, Love Your Tent are asking festival organisers to sign up to a 10% reduction agreement in campsite waste year on year.
The survey – an industry first – found consumers at festivals have developed a socially unacceptable practise of leaving all of their waste – includingtents and camping equipment – behind. This comes at a time when campsite wastes contributes to a staggering 86% of total music festival waste, while 71% of this waste caused lasting land damage to the native flora of the festival sites.
In total a shocking 60% of the respondents who camped admitted to previously discarding tents, with 36% unsure if their behaviour would ever change, and a further 35% said they would never change their behaviour. Despite this, 86% of those surveyed recognised that waste has an impact on the environment at festivals. Given over 6.5 million people last year attended a festival or live music event in the UK alone, the scale of camping waste and abandoned tents is enormous.
The survey – which included 1200 respondents from a number of countries where this has increasingly become a problem – reveals this new hazardous wasteland trend is in-part the result of cheap tents – 46% surveyed paid less than £75, and 60% said they left their tent because it was broken. Only 28% would accept an increase in the price of a festival to include the disposal of their tent.
Teresa Moore, a leading sustainable event management/festival expert and Head of Department, Music & Event Management at Bucks New University, pointed to the growing number of events and festivals across Europe as exacerbating the problem, with many of those in Eastern Europe now dealing with campsite waste for the first time.
Commenting on the survey, Moore said, ""Bucks has been delighted to support Love Your Tent and last year carried out the first comprehensive survey on camping at festivals on their behalf. Through our research we wanted to put some data behind the annual media coverage of campsite waste at festivals. What we found confirms a growing problem which is not confined just to the UK. As tent prices continue to fall, more cheap tents are discarded at festivals. It's time for retailers to take their share of their responsibility and work with event organisers to tackle this problem."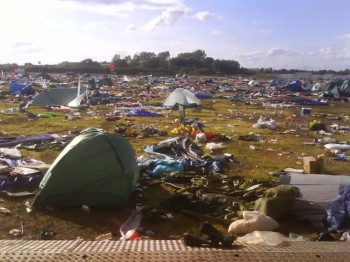 Juliet Ross-Kelly, founder of Love Your Tent and a Director of Eco Action Partnership Ltd, cited the group's collaboration with the Isle of Wight Festival as one way to change festival goer's behaviour and increase sustainability. Launched in 2012, their 'RESPECT' campsite at the Isle of Wight gives consumers the opportunity of an almost VIP camping experience for free, upon signing their TENT COMMANDMENTS, a code of practise that RESPECT is left without waste.
Ross-Kelly said, "Thanks to the great support and work by Bucks we can see how much work still needs to be done to encourage a change in audience behaviour. By targeting festivals to reduce their campsite waste by 10% year on year we are leading a change that will help to protect festival culture for future generations and from the work that we've done with the Isle of Wight Festival, we know it's achievable."
Isle of Wight Festival organiser, John Giddings added, "audiences leaving stuff behind is an issue us organisers have been dealing with for many years and the Bucks survey shows it's a worsening problem. Supporting the Love Your Tent campaign has allowed us to offer a real alternative for campers who are fed up with wading through waste to get to and from their tents each day. We know there is a real market for a sustainable camping experience and we want to be at the forefront of that change."
Love Your Tent and Bucks New University are urging for strong public support that can be shown through email [email protected], Facebook, and Twitter  with support shown through #JustTakeItHome
Look at what Love Your Tent got up to in 2013, and look out for Love Your Tent at festivals worldwide again this year.