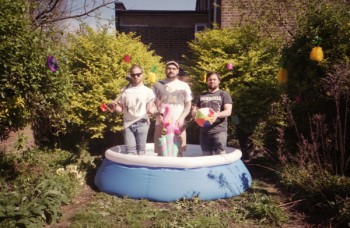 – THE DEAF INSTITUTE, MANCHESTER – 
It's always a wonderful feeling when you finish work on a sunny day. I've rolled up virtually every item of clothing I'm wearing and I don't intend on taking off my sunglasses until it's real dark. My soundtrack to this glorious afternoon? The tropical pop grooves of London based trio Fair Ohs who have been soothing my ears for the past week or so as they've just released their excellent second album Jungle Cats. Brilliant timing I'd say, as this is already my soundtrack to the summer and it's barely begun! So, what's even more exciting is that I'm off to see them play the first night of their UK tour in support of the record this very evening at the wonderful Deaf Institute! Again, today is good day for a gig as everyone is in good summertime spirits and ready to dance.
 Tonight's support comes from two exciting new british bands, Spring Kings and Bloodsport.
Spring Kings play an energetic and eclectic opening set that bounces from fuzzy indie punk to almost Motown esque soul pop. An impressive set full of great ideas and catchy pop sensibilities; most definitely ones to watch. Second support Bloodsport are a slightly different flavour. The three piece  are incredibly interesting to watch. This is mainly thanks to their awesome, powerhouse of a drummer who barely takes a moment to breathe throughout the whole set, looking as if he's been hypnotised by his beats. Musically, it's pretty difficult to describe their sound, as they seem to take a lot of different sounds and put them into one big melting pot, but loosely they sound like Foals jamming with experimental-era Radiohead; its got the grooves, its got riffs, its pretty psychedelic and totally progressive. Definitely an interesting new act to keep your eyes on.
Fair Ohs set up to the stage jumping straight into the afro pop groove of album opener 'Green Apple Milk', which ensues instant shoulder shaking from the crowd. The band almost immediately kick into the high energy pounce of 'Critic Placid' which shows off their more punkish side that jumps back into a reggae tinged at its end and is totally exciting, almost chaotic track to catch in a live setting. Tonight's set is exclusively songs from the new album, which is fine by me because it's totally ace (might have already mentioned that). The band break it down ever so slightly with the softer grooves of 'Sleep' and 'Ya Mustafa' but truly excel when they bring out the pure afro-pop funk of 'Mayan Flex', 'Silver Jade Mountain' and the NYC punk funk swag of 'Cayman Brac'.
On record they make you wanna hang out in the park with some beers and shake your hips a little, live their ready to make you wanna full get hyped and sweaty with a more punk edge to their sound. Put these guys on an outdoor stage in front a crowd up for a dance and they really could be the kings of the summer!