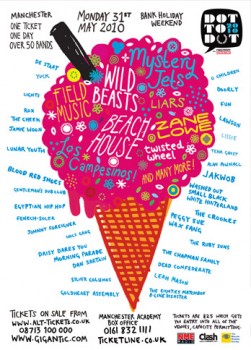 – VARIOUS VENUES, MANCHESTER –
To level with you, I came out tonight to see Fun. I did not know (much to my shame) that they were playing as part of a larger festival. So you can imagine my delight when I discovered that lots of other fine acts were playing the Academies for no extra cost. £30 seems like a reasonable price considering you don't have to worry about the pubescent moodiness of our weather – though the toilets are still knee deep in piss.
So Fun, on record they're slightly camp. They mix Queen with Mika with basic indie creating a sound that is both interesting and slightly disturbing. Mika is the most annoying pop star since H from steps decided to dye his hair blond and get his mum to cut it with basin. They also try to put an album's worth of songs into each track so boredom or a lack of inventiveness are never worrying factors.
Live they're something else. As soon as I walk into the Council Chambers the whole room is bopping so joyously it's like a consignment of laughing gas has found its way into the windowless room. The band dance around furiously, the audience spasm involuntarily and the atmosphere is electric.
This is the last show of five month tour so they might just be giving it all because it's their last, but I suspect that they're just one of those band that only make sense when you put them on a stage. It's not just that their music improves; it's that their genuine passion for what they do becomes evident in spades.
They also have an easy going, light-hearted interaction with the crowd. They don't consider themselves comedians, but they enjoy a joke. "Anyone who sprains an ankle gets a t-shirt says the singer", says the singer. "Anyone who sprains both gets this guitar" laughs the Brian May inspired guitarist". "Everyone give a black eye to the person to your left", says the singer again for no obvious reason before launching into closing track The Gambler.
It sounds like the theme tune for a kids TV show, which is fine for TV, but a little bit fucked up for a live band. I like Fun finally though. I know it's a bit like calling a heavy metal band, "Wanky Guitar Solos", but in this case the epithet "Fun" induces positive vibes.
Pause for a few pints, a brief chat with a friend over girlfriend trouble, then more music.
Liars do not look to induce positivity in any fashion. They are as bleak as hell, and as charismatic as Lucifer himself. The singer looks a lot like Nick Cave, always a good thing, and spends the show looming threateningly, growling menacingly, and howling like a werewolf that hasn't mangled innocent people for too long.
They have a great sound. The industrial, doom – laden rhythm sections combine with sparse one note guitar riffs producing something close to Massive Attack and even closer to a massacre. They have real style, a distinctive sound (not dissimilar to Massive Attack), and I will be watching their every release in future.
I appreciate that I should have listened to Wild Beasts by now, but I haven't. A lot of hype has come my way, but no direct or indirect interaction has occurred between them and me. I like them instantly. They make me want to dance, so I do for about 45 minutes. There are elements of Talk Talk and U2 in there, they draw the largest crowd of the night (deservedly), it's one in one out for a while, all of which gives the impression of a band on top of its game heading a long way up. But most importantly they penetrate my booze befuddled brain and set my synapses ablaze. These guys are truly brilliant.
Much better than headliners Mystery Jets. There's a lot to love about them too. Their light touch with meaningless 80s pop lyrics with massively accessible tunes is something to love, but somehow they just don't pull it off tonight. All their best tracks are present. Two Doors Down, Young Love…"It never seems to last" are good but not great, and I wonder if they're a bit too indie-light to create an atmosphere that thrills.
They're all dressed badly in second hand suits, the singer's hair looks like a shit wig made out of poodle fur, and though this shouldn't matter it further undermines the performance. The new songs sound excellent though, especially Seratonin, and despite everything I believe that their forthcoming album is something to look forward to.
It's been a great festival with fine acts, good value for money and a happy, lively crowd. Bring on next year.