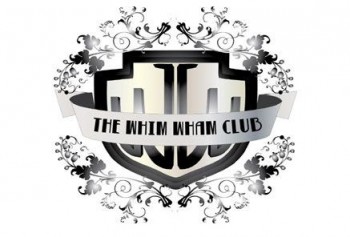 – THE THIRSTY SCHOLAR, MANCHESTER –
The Whim Wham Club is about to celebrate its fourth birthday, which makes Manchester's best loved vintage night about ninety four years old by my reckoning. Like some long lost dream of the libertines of the Weimar Republic, an officer's mess far from the danger of the enemy lines, or a depression era New York speakeasy, the hedonists of any age don't need to look, they just find one another.
The Whim Wham Club has become the place where the truly debauched in Manchester have congregated, a whirlwind of Burlesque Acts, bourbon and Charlie Parker loving bootleggers. That a vintage cabaret night has been afforded the run of an entire venue at Eurocultured is testimony to the enduring, and now growing popularity of the scene.
The Thirtsy Scholar Pub is alive with the sights and sounds of the roaring twenties, but the man behind this revivalism, club land mainstay Alix Walker, already has something new planned for his acolytes. "Gypsy Revel is something new we are trying out on Eurocultured.
The Whim Wham Club is four years old next weekend and we will be continuing with it, but I have been excited by soundings from the gypsy music scene, so tonight is the testing ground for that."
The experiment appears to be paying off. Headline act, Manchester's own The Yossarians, are a nine strong foot-stomping band of brothers, combining guitars, double bass, banjos, harmonicas and more, to create an incredible crescendo of new from old.
For the Whim Wham die-hards, Magic Sam The People's Magician makes a welcome return, and the luscious Miss Lauralei Lou treats us to a rendition of 'Je ne regrette rien' so sultry that it would have any Frenchman forsake Edith Piaf. Whim Wham wouldn't be Whim Wham without the Burlesque acts, and this evening Lady Wildflower reddens the cheeks of those pious few amongst the wanton many.
With all this talk of the past, it is difficult to see where the future might take such a scene. Alix again "The Whim Wham Club will continue to develop, we have new acts all the time, so keep watching, but the Gypsy Revel will be developed for the summer." A vision of heaven for those sour mash sippers that love where we have come from, but love to know where we are going, The Whim Wham Club, and Gypsy Revel are out of their time, with perfect timing; let the debauchery commence.
The Whim Wham Club is at Charlie's, Harter St, Off Princess St. 4th June 2010, and every first Friday of the Month.