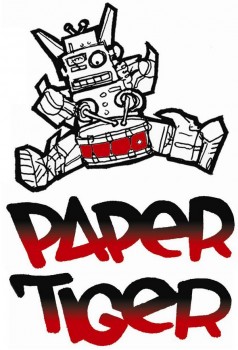 – SPACE, MANCHESTER –
The beauty of street festivals like Eurocultured is the chance to stumble upon rare and unexpected gems. So it is with Paper Tiger, the live front of a collective of musicians and producers from Leeds. The roof terrace in Space is the venue, where the humidity and low ceiling on the dance floor area make for a claustrophobic greenhouse atmosphere, perfect to ripen the cross pollinated eclecticism of Paper Tiger.
Sounds rooted in dub and reggae, with influences of funk and hip-hop, wrapped in the veneer of edgy dubstep, open up the initially sceptical crowd and by the end the massed ranks are skanking to the rhythms and baying to the mc's command.
Ludicrously early in the day (5.30), Paper Tiger are essentially the openers, but give a show stopping performance. Though they succumb to using elements of the populist dubstep sounds, make no mistake; this is a collective grounded in knowledgeable musicality and technical brilliance. Formed from disaffected music students at Leeds College of Music, the group has developed a two pronged assault on left field genres through heavy production and live shows.
The classical knowledge of music is evident through the seamless transition from sound to sound, modal shifts from Reggae grooves to hard edged hip hop, and they appear as direct descendents of movements like Massive Attack, Fat Freddy's Drop and, before that, The Specials. One can see them as a group of party heads playing in basements and free parties, just as easily as filling out sizable venues and entertaining with six hour long jams.
Their understanding of the shifting sands and short attention span of modern music stands them in good stead, and the versatility and plasticity of the sound should see them change with the times and prosper.
So what drew this group of young musicians together? Keyboardist Tom and Drummer Oli chime in unison "A love of Hip Hop, it all started with Hip Hop". Upcoming collaborations with Foreign Beggars and Dudley Perkins attest to that fact, but where the band stand now is more of a conundrum. "I would describe what we do as Future Hip Hop" says Tom, "Future Beats or something.
Basically we came together because no one else was doing what we wanted to hear. Other people at college were playing the stuff that was expected of trained musicians, we all wanted something different." The vivacity with which the pair talk about the group's project is evident, and the love of music shown in their performance is there for all to see.
What stands out about the live show is the ability to sound wholly original whilst performing this genre-pastiche. Playing dubstep live is no mean feat, and one struggles to think of any up and coming bands with the technical ability and gumption to pull this off. Stand out tune 'Paranoia Strikes' is a claustrophobic and soaring transcendentalist tumult of epic proportions, and the sheer love of music from the players arcs over and envelopes the crowd with electric enthusiasm.
The festival has gotten off to a slow start up until now, with technical hitches curtailing stage time for many of the early acts, but this explosion sucks in those lucky enough to be present, feeling that things have finally started to swing. Paper Tiger takes them on a diverse and refreshing journey through modern music, I suggest you come along for the ride.