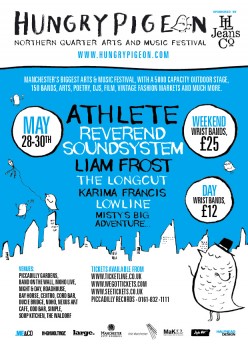 – NORTHERN QUARTER, MANCHESTER –
If you love watching live music then you have probably asked yourself this question many times before: just why is this band or singer not a household name?
There's no accounting for taste, but some people are just so talented that not even the most musically deadened, tone deaf oaf could discount them.
I seem to be asking myself that question over and over today (Sunday) as I flit between Hungry Pigeon venues, checking out one brilliant act after another.
I start out feeling a little bit hazy and hungover in The Bay Horse basement, day dreaming along to Karma Larma's mellow acoustic set.
Chilled out and refreshed I float over to Centro for a spot of SBH Unplugged – catching the tail end of a remarkable set from one-woman dynamo Hannah Atkins before being moved to tears by Kirsty McGee and the Hobopop Collective.
After a brief pit-stop at Common and Cord to share a few cheeky jars with an old mate, I'm being swept off my feet by the brilliant I am Blackbird at Band on the Wall before finishing off the night in style with Kid British (pictured) at Moho Live.
Six supremely gifted acts that had barely registered on my radar at the start of the day.
And they are just the tip of the iceberg.
More than 200 bands and singers performed at Hungry Pigeon over the weekend, most of whom are juggling the hope of a career in music with the more realistic grind of the 9 to 5.
It's hard to get your head round the fact that there is such a rich vein of untapped potential out there in this country, this city even, which is being overlooked.
But it's not all doom and gloom. There is always hope.
Every act that I have seen today shares a common love of music.
They are all performing because they have to, they have no choice.
Forget fame and fortune, all they need is the time to rehearse and perform, time that a record deal could help to pay for.
I know that Jon Baldwin, the singer songwriter behind I am Blackbird (pictured), is a designer by day at JD Williams, the catalogue company in Manchester.
He met Estelle Malm, the cellist in the band, at work. They used to rehearse together in their lunch hours before deciding to strike up a band.
You would imagine that if their latest EP is anything to go by – the Stephen Fretwell produced This Town – then they will have a long and happy musical career ahead of them.
Their music is definitely great live. Each track steams along like a runaway train, taking the audience along with it for the ride.
It's feelgood stuff with a bit of an edge, Baldwin's vocals and lyrics offering a glimpse of the frustration, doubt and excitement of a man on a mission.
There's clearly no doubt in Estelle's mind as to their collective future on Sunday night. It's all she can do to suppress her beaming smile, carried along by the electric buzz in the room.
Her Cheshire Cat grin kind of sums up what it must feel like to be in a band that you know is good. Really good.
Let's just hope that someone out there sees their potential and gives them, and the other fantastic acts performing at Hungry Pigeon this weekend, the break that they deserve.