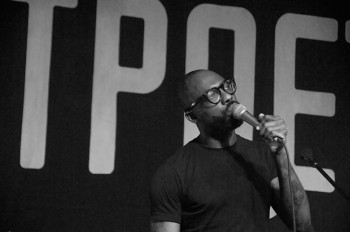 – GORILLA, MANCHESTER –
Things are really moving fast for Obaro Ejimiwe, a.k.a Ghostpoet. His bedroom produced debut album 'Peanut Butter Blues and Melancholy Jam' was nominated for the Mercury Prize, which thrust him into the limelight with a little help from Gilles Peterson's label Brownswood. Two years on, he has released his 2nd album (through Pias), gained a band, lost his hat and developed a desire to make people dance.
The wonderfully named venue Gorilla, comfortably and ergonomically squeezed under a brick rail arch in Manchester's city centre, is pretty much sold out tonight. There's a crush near the front as students in various styles of hat jockey for position and prime phone camera angle. His stagename adorns the back wall in large letters and 4 vertical electric blue strip lights, one for each corner of the stage, create a neon boxing ring.
He starts with 'Gaaasp', the lazy plodding beat eases us into the gig with a smooth chilled vibe. The live drums work really well, adding depth to the older material and a cutting through with more impact than any drum machine could muster… "take a deep breathe". The tune pauses momentarily, leaving us hanging as he takes stock and starts again.
The vocal style is like a combination of Roots Manuva and Maxi Jazz, enunciating the end of a sentence with an "ahh" while staring into the distance, head tilted to the side, mic in one hand, making keyboard adjustments with the other.
An addictive guitar lick (yes, guitar) starts 'Plastic Bag Brain' from the new album 'Some Say I So I Say Light'. The interesting afro-beat drum pattern and spacial keys raise the tempo following the melancholy older material, motioning people to shuffle their feet and move their shoulders. 'Dial Tone' introduces some smooth female vocals – the Topley-Bird to Ghostpoet's Tricky. He's exploring all angles and possibilites, adding to his armoury and keeping the ideas flowing, while nodding a head to classic UK garage and trip-hop, amongst many other influences.
'Survive It' is well known to all here, the way he delivers his lyrics is so honest and heartfelt… it's hard not to appreciate his honesty and smile in recognition of his openness. The crowd help him with the chorus.
After declaring that he doesn't do gigs but does parties, we're treated to a faster version of 'Cash and Carry Me Home', which successfully transforms the mood, bringing the dance floor to life. The next two tunes are also outstanding, with a bit if guitar playing from the main man himself during 'Sloth Trot' (the highlight for me), which builds to a crescendo, and his superb recent single 'Meltdown'.
'Comatose' brings things down and then back up again with a plethora of sounds that are skilfully hurled at us, before the much requested encore. 'Us Against Whatever' turns the place into a club once more, the crowd try to out-do each other with some interesting dance moves as many wave their hands at the stage in hip-hop fashion. 'Liiines' concludes the mayhem and giddiness, the main man seems stunned by the loud never-ending applause, thanking his band and all and looking reluctant to ever leave this stage. His wide grin is infectious.
Ghostpoet draws on a multitude of different genres and successfully combines them with his "mumbling over the top" (quote from a recent interview). The new album has blown the doors wide open, progressing the rather (in comparison) claustrophobic sound of the debut album into dangerous waters, with thrilling results. This gig had it all.