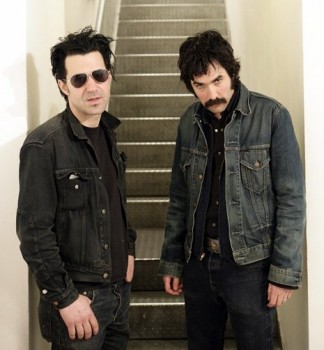 – ACADEMY 3, MANCHESTER –
Thank god for the internet and green lights all the way into Manchester tonight. If it weren't for these minor miracles we wouldn't be any the wiser about Bloodshot Bill or able to get into the city in time to catch his set. Bloodshot Bill, the self proclaimed 'one man banned' hails from Montreal and is currently barred from entry into the US. I can't tell you why, but I can tell you he could be Manchester's best kept secret tonight. The few dozen of us early birds witness Bill's unique interpretation of Rockabilly.
Dressed in blue pyjamas, Bloodshot Bill plays guitar, drums and hits a cymbal pretty much all at the same time, whilst screeching, yelping, barking like a reservoir dog and singing in what I can only describe as the best tribute to Hasil Adkins, Screaming J Hawkins and Lux Interior.
By the time Bill gets to the end of his set, we're all bopping along, and singing "5, 10, 15, 20..25, 30, everybody scream – HEY HO!!"
His set closer ends in a mash up of rockabilly riffing and bluegrass yodelling – I kid you not!
Bloodshot Bill – Deranged genius.
Heavy Trash are touring with their third long player, 'Midnight Soul Serenade', released at the end of last year. Essentially a project of long term friends Jon Spencer (he of Pussy Galore, Jon Spencer Blues Explosion and Boss Hog) and Matt Verta Ray (Speedball Baby, Madder Rose), the duo have expanded to a quartet to tour the album. Drummer Sam Barker and Double Bassist Simon Chardiet have also contributed heavily on both the new album and the earlier 'Going Way Out With Heavy Trash' and the band are cooking tonight.
Kicking off with 'Justine Alright' from the first LP, any lazy descriptions of Heavy Trash as a rockabilly/loungecore version of the Blues Explosion are clearly wide of the mark. That said, Jon Spencer is an unmistakeable presence in any band, but is relishing playing with his kindred spirit, Matt Verta Ray. On 'Good Man' MVR switches vocal duties with Spencer, but whilst still dagger-slashing killer rockabilly riffs. Bo Diddley would approve.
On 'That's What Your Love Gets' Jon Spencer is preaching and-a testifying, 'Can I here you say YEAH?!' and 'Can I Feel Your Love Tonight? – Hell YEAH!' The now nearly full room responds so raucously, that even he is temporarily taken aback by the response , and mock staggers back into his amp.
They return with Dark Haired Rider and a truly staggering version of Be Bop A Lula, where only the lyrics are recognisable from the Gene Vincent classic rocker. Clearly enjoying themselves and in no hurry to leave, Spencer switches places with the drummer, and they bang out The Stooges ' No Fun', complete with a Stooges-style stage invasion.
The mojo spirit of the classic rockabilly/rootsabilly performers, is alive and being channelled through Heavy Trash tonight. Hell Yeah!