From time to time, one of our contributors will recommend an artist/band they think deserves to be brought to your attention. No record labels, PR companies, bands or band's management will ever have made these recommendations. It is simply one music fan putting their taste on the line in the hope of sharing good music. The questions are intended to give just a basic introduction to possibly your new favourite artist/band.
So without further ado, let's crack on with another introduction, in which Silent Radio's Simon Zaccagni recommends HEAVY DANCERS for your audible delectation.
*****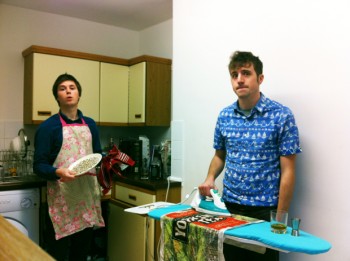 Who are ya?
We are Heavy Dancers and what we like to call an 'unpop' band. We're a pop band with unpopular instincts.
Where are you from?
We're from Brighton-by-way-of-Halifax, West Yorkshire.
How long have you been doing what you're doing now?
Before Heavy Dancers we were in another band called The Hornblower Brothers for several years, building up a solid fanbase of beer-swilling middle aged men.
Is being a musician your full time job?
No, unfortunately that remains a perennial fantasy.
How would you explain your sound to someone's 90 year old grandmother?
We would probably be very polite and say 'this won't be very good for your pacemaker dear'. Nevertheless, it would probably be our aim to make said grandmother gyrate around a dance floor whilst ruminating on the harsher realities of the human condition.
Are there any obvious influences in your music?
I liked to convince myself that the music was completely original until someone pointed out that 'Paradise Bungalows' sounds a bit like the Grange Hill theme tune.
Are there any not so obvious influences in your music?
We listen to a lot of different music, which is in no way apparent in our own. Lots of South African funk and Highlife. I also enjoy reading a lot of GCSE level poetry.
Apart from yourself of course, what other band/artist would you recommend our readers check out?
There is a guy in Brighton called Alastair Chamberlain, who shies away from any publicity but could be a household name by now if he could be arsed to promote himself.
Best place for people to find out what you are up to?
We have a bandcamp page (http://heavydancers.bandcamp.com/) and a facebook page (here) for more inane prattle. Some of the more digitally savvy members of the band also enjoy a good tweet @heavydancers.
Anything to declare? 
We're releasing an EP entitled 'Paradise Bungalows' on the 3rd June through Tattle Tapes. Expect us in a sweaty dive of a venue near you soon!