– ST. MARGARET'S CHURCH, MANCHESTER –
Improvised music can be a nightmare. Overwhelming in terms of scope and size as a 'genre'; seeming to require an encyclopaedic set of references; over-intellectualised; pretentious; snobbish and cliquey; perplexingly theoretical.
Just when you think you have got a handle on it, something new will fall in your lap and whole new avenues of musical discovery are opened up and you realise you are only a dilettante, a toe-dipper. It can make you feel like it's not worth the time bothering with as often it can leave you with an inferiority complex, like you don't really 'get it' the same way that the really smart people 'get it' anyway. 
I heard improvised or free music, looked at the back catalogue of some of the artists I had heard that had made the hairs on the back of my neck stand on end (the only fool proof sign that this is music you love), and was frightened off by the seventy plus albums by Derek Bailey; the range of different styles adopted by Keiji Haino; and the sheer size of the 'cannon' of American Free Jazz that I thought was required to be heard to truly understand this music (the hundred of LPs available from artists like Ornette Coleman, Anthony Braxton, Roscoe Mitchell, Albert Ayler and Alice Coltrane etc).
Improvised music can be approached in this way, but it doesn't have to be. Limited by time and money, I now let interesting stuff come to me and try not to get hung up on constantly chasing what I have yet to hear. A performance by Okkyung Lee and John Butcher with support from the Open Eye Quartet only reconfirmed to me why it's worth sticking with improvised music though, containing all the hallmarks of what makes improvised music so exciting and surprising, challenging but totally enjoyable. Improvised music is almost never totally without precedent, and tonight includes familiar elements, but it all feels pretty unique as well.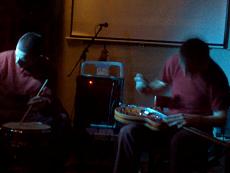 St. Margaret's Church in Whalley Range is a superb venue for this performance. Attracting fewer attendees than most Sunday mornings I am guessing (there are only around 30 people in the audience and some of them are clearly friends of the Open Eye Quartet and promoters MIE Music), the audience sit in pews in a venue lit primarily by desk lamps. The option of drinking MIE made fruit punch and eating pitta bread and hummus might also seem a bit twee, but I think is just nice.
On arriving we sit in on the Open Eye Quartet setting up. The OEQ expands on its duo configuration of Manchester improv luminaries' guitarist David Birchall and drummer Pascal Nichols, joined by Nichols' partner in Part Wild Horses Mane On Both Sides (named after a Tai Chi movement) flautist Kelly Jones, alongside a bassist, F. Kennedy.
Having seen PWHMOBS a few times previously, I had some expectations of what the OEQ might be like tonight. Nichols uses (a small set of) drums and effects on his voice as percussion and Jones plays flute, gong and effects. These are all in evidence, along with Birchall contorting over his guitar, scraping, sliding, tapping and drawing some very unusual sounds from the strings. The bass meanders beneath all this, being the most recognisable element of the set up, in that the sounds it made were conventionally that of a bass guitar, but not in the sense that it provided any standard rhythmic underpinning.
The music builds and fades throughout the course of one continuous thirty minute piece. At moments the sounds are genuinely uncomfortable and overwhelming, but the time spent on these elements is well judged, lasting only long enough to create the required tension which is immediately followed by the sounds dissolving and providing the release which became all the more memorable and enjoyable.
 The sounds could be cacophonous enough to catch your breath but the quartet never seemed like they were out of control. At other times a particularly sweet sounding element is drawn from one of the instruments and, in this context, stands out as particularly lovely (this could just be Birchall hitting a certain notes on his guitar, or Jones running with a short flowing piece on the flute followed by swinging a small set of chimes around her head.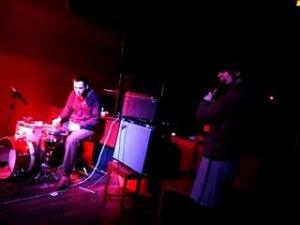 The entire piece is all formed with seemingly very little eye contact or communication between the players and what strikes me the most is the developed use of restraint and silence, sometimes an individual player just stops, like the best thing they can do in the moment is just withdraw from the sound being made.
Following a short intermission, Okkyunng Lee and John Butcher walk from the pews where they have been sat undisturbed amongst the small audience and stand at the Chancel. Lee, a New York based cellist/improviser/composer, has a new album out as part of Tzadik's Oracle series (her second album as part of the labels celebration of the diversity and creativity of women in experimental music making), and this gig comprises part of a short UK tour where she will play with different collaborators each night, including improvisers such as Christian Marclay, Steve Beresford, Mark Sanders, John Edwards and, for tonight, John Butcher.
Lee has collaborated with some of the 'big names' of improvised and experimental music as has Butcher, who has developed a place as the leading British improviser of the saxophone over the last thirty years. Butcher has also played with numerous collaborators over the years (including some of my favourites The Ex, Paal Nilssen-Love and Rhodri Davies – honest, look them up if you don't know them already, they're really good), so both artists are well placed to provide something special and spontaneous together.
Lee is a classically trained cellist and can turn her hand to a number of different techniques; her new album for example includes quite traditional structured pieces overlaid with improvised elements. Tonight we see more of her use of what I guess is termed 'extended technique', as she draws out long drones or settles on one movement which she repeats, often running her hands over the neck of her cello, or playing open strings almost percussively, with both hands on her bow. We also see Butcher's use of what I have read on various online profiles is termed the 'manipulation of multiphonics', creating tones and noises using his saxophones (tenor and soprano) which are at times totally disconnected from the instrument as would commonly be known.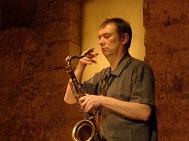 Over four extended pieces, which in total lasts around forty five minutes, Lee and Butcher both play together and against each other. Each contribute memorable elements of abstraction but over the course of the performance it seems almost as if Lee is playing in support of Butcher, possibly because the saxophone is louder, possibly because Lee's contributions tend to seem more repetitious and minimal. Whatever the case I keep thinking I want Lee to come to the fore more, to show some of the jaw dropping dynamism I appreciate her for. Needless to say Butcher is outstanding, drawing out abstract sounds and tones from his weird and wonderful musical palette.
For all the praise they receive for their musicianship and challenging approaches to sound and technique, the music they make hits you on a real base level, creating atmosphere and feeling. You're never in doubt that this is music which produces an emotional response and is there to be enjoyed and not just appreciated. I am not sure if Lee and Butcher have worked together previously, but they are able to create a performance with real pace and flow which explores music and sound both interesting and touching. And you can't ask for a better combination that that.