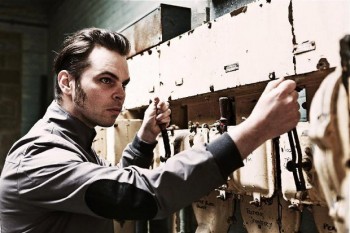 – THE RUBY LOUNGE, MANCHESTER –
At twenty to ten it seems like an age since the support act went off.  The Axl Rose complex finally shows signs of lifting when people we assume to be in the band appear on stage one at a time.  Something's happening as a couple of notes emerge on a loop.  The strange and incessant babbling that filled the room has stopped.  After what feels like another age I hear a gruff: "he's taking the piss now."
Then, out comes Gaz.  He doesn't appear to have changed much at all.  Except maybe for the fact that he doesn't need to have his name printed on his t-shirt anymore.  Perhaps, too, the hair's not as wild and the lamb chops are a bit more conservative.  Then I remember that he's not actually that old anyway.  What did I expect? Its 17 years or so since he began his pop career but he was just a teenager then.
Understandably,  The Ruby Lounge is full of thirty-somethings, and mainly men.  The only people present who might get ID'd at the bar are the support act, Dead Wolf Club.  Their tunes have just the right elements of simplicity and rawness that give them impact.  They don't sound as though they've been around too long but there's a vitality about them that's promising.
Coombes himself is here tonight to present his forthcoming solo album, Here Come The Bombs, The Bombs in fact being the band that is backing him.  He announces part way through the set, sounding a bit Keith Richards: "I wrote this freaky album, and I wanted to play it for you."  Bless.  And he did just that from beginning to end.  It is all a bit of a surprise because I'd only heard the single 'Hot Fruit', and there are samplers kicking around on the net.
It's all very different from his Supergrass material, despite being laced together with that distinctive voice.  There's still plenty of cheekiness in there too.  Sometimes it seems a little bit incoherent with a lot of different ideas going on within any one song, but that's undoubtedly down to it being my first listen.  'Hot Fruit' is catchy in parts but doesn't instantly adhere, though his next single 'Simulator' is brilliant with its almost 60s pop verses and rocking, fuzzy chorus.  You can feel people really taking to this one and when it ends a man screams: "Gaz, that is a choon!"
It's certainly a textured performance with the sounds veering from rock to dance to electronic, and it's good to see him perform in a smaller venue.  Surprising almost, but it doesn't appear to be sold out though there is a fair crowd.  And they don't seem particularly lively, but it's not a crowd of kids and they are all hearing this first hand.
If anyone was expecting to hear Supergrass songs though, they would have been disappointed, but fair play to him.  He doesn't appear to like the idea of going back on himself and that can only be a good thing.  And so, as the 21st May release date approaches the outlook is promising.  I think I could find some room on my shelf for this one.