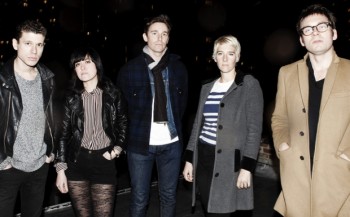 San Diego's Crocodiles have unveiled the second single to be taken from their forthcoming third album. The new single 'Endless Flowers', out June 11th, is taken from the album of the same name, out June 4th on Souterrain Transmissions. It sees the band, as vocalist Brandon Welchez describes himself "stepping from monochrome into full colour" with a fuller, brighter sound that proves the 'lo-fi' genre tags to underestimate their capabilities, whilst retaining all of their skuzzy intoxicating charm.
Endless Flowers' comes backed with Crocodiles' cover of Teenage Head's 'Picture My Face', available now on iTunes HERE and to be released on 7" vinyl later this summer. The releases are accompanied by live shows including London's Field Day Festival and a special London boat party album launch.
Crocodiles have existed in various incarnations since 2008, evolving from the original core of Brandon Welchez and Charles Rowell into the five-piece we see today.  With two previous albums, 2009's 'Summer Of Hate' and 2010's 'Sleep Forever', the band garnered righteous praise for their blend of surfy noise pop and thrilling live shows. But, finding themselves having to beat a hasty exit from their San Diego hometown last spring, they headed to Europe, landing in Berlin to rehearse and record 'Endless Flowers'.
Crocodiles are: Brandon Welchez (vocals, guitar), Charles Rowell (guitar), Marco Gonzalez (bass), Anna Schulte (drums), Robin Eisenberg (keyboards).