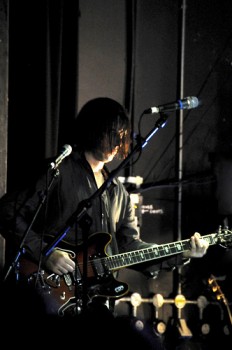 – ACADEMY 2, MANCHESTER –
Anyone who has seen the documentary 'Dig!', which follows the relationship between The Brian Jonestown Massacre and The Dandy Warhols, will know a BJM gig has the potential to implode.
I saw them a couple of years ago at this very same venue. They played to a half full crowd during the summer festival season when the students had abandoned Manchester to return to their parents. The band appeared in no fit state to play back then, taking a few minutes between songs to collect their thoughts. Lead singer and bandleader Anton Newcombe crouched onstage at times and appeared to be crying. He made Joel Gion, tambourine player and original band member (the line up changes often), sing a song in his place… and that's where the gig ended.
Despite that disappointment, I still bought a t-shirt. Large crowds now flood from the merchandise stand where they have just purchased the very same t-shirt and stagger into the venue. A guy flips out at the entrance, throwing himself on the floor involuntarily, disturbing half empty cans of beer, an emergency exit, and the on looking queue. The audience are already wasted and the gig is a sell out.
As at a Midlake gig here a few months ago, the hall smells of josticks. This time it'll be to mask the smell of weed and cigarettes. Moving to the front I try to guess what drugs the audience have consumed. The BJM stroll onstage to the sound of a drone box that sets a calming, psychedelic, spiritual scene.
Anton stands far left of the stage, facing across at his band rather than at the audience, presumably to keep an eye on them. His manic eyes are barely visible from behind his bobbed haircut. Joel stands central in a cap and nonchalantly strikes his tambourine in a downward, circular motion. 3 other guitarists are dotted about the stage in front of the drummer, though at times I count 6 guitarists. "This song is about you" introduces the first tune, 'Super-Sonic'. A slow, hippie 60's sitar tinged tune that brings together The Beatles and Manchester's finest.
Surprisingly, Matt Hollywood joins them onstage to sing 'Got My Eye On You'. He was last seen on 'Dig!' seeking legal advice after Anton had bit him during one of many onstage fights. Joel wakes from his trance to speak in a Vanishing Point radio DJ style between verses, but unfortunately his microphone isn't switched on.
They fly through highlights from their dozen of so albums/EP's. Beer flies, friends sit on each other's shoulders and the crowd jump up and down with their arms in the air. People throw random items of clothing at the stage and encourage any sign that Anton is going to get angry with his band. "Fight! Fight! Fight!" He seems determined to do things his way with no interference or outside influence, which makes for uncomfortable viewing. His attitude is the only thing preventing the band from attaining mainstream popularity, but apparently that's the idea. He amends the lyrics for one song through gritted teeth to publicly and melodically inform the sound engineer that the treble is terrible.
Recent material from their new album 'Who Killed Sgt. Pepper' have been largely ignored tonight and only features when the crowd sing "Let's go f***ing mental" as if at a football match. Matt and Ricky Maymi, the calming influence in the band, simultaneously tell the crowd how much they appreciate it. The guy next to me holds a cigarette lighter to his chest to show his friends his new tattoo.
Someone behind us, who has been leaning against the wall all night shouting "Woo!" every 10 seconds, is hauled out by the busy security. Ironically, the next song titled 'Who' starts up with a chorus of woo's… possibly in tribute.
The highlight is 'Wisdom', a slow burner that can't help but make you nod your head and tap your feet, until it builds into frenzy inviting a bombardment of crowd surfers. There's no sign of an early exit tonight and they don't even break for an encore.
The tempo is increased with [what should be] hits 'Hide and Seek', 'Oh Lord' and 'Satellite', before bringing the night to a spiritual and downbeat surfer stoner finale. They would've played on if they could and the switching on of the house lights proves a disappointment. The unpredictable nature of Anton, this band and its followers grows ever more intriguing as they head for the next city.