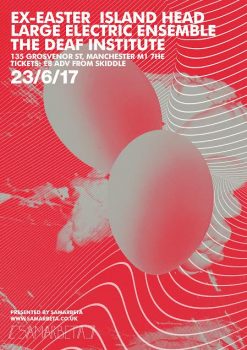 Ex-Easter Island Head (EEIH) will be performing at The Deaf Institute on Friday 23rd June 2017 as Ex-Easter Island Head Large Electric Ensemble.
Back in February 2016, EEIH took up home at Islington Mill as part of a 10 day Samarbeta residency, working with an ensemble of hand-picked guitarists from a variety of musical backgrounds and artistic disciplines. The outcome of this residency was the creation, performance, and recording of an ambitious new piece of music, breaking new compositional ground for the group.
The ensemble featured members of Gnod, Action Beat, ILL, Mother and more, tapping into the vast resources of talent at Salford's Islington Mill and Manchester-based Tombed Visions label, coming together to form EEIH's largest amplified ensemble to date.
The piece saw EEIH's unique vocabulary of extended techniques deployed on a mass scale, drawing influence from the ensemble-wide tunings of gamelan, change-ringing patterns, and the harmonic possibilities afforded by massed amplified strings, as well as the groups' previous work, Large Electric Ensemble (2012-14) to create an ambitious, long form work for multiple prepared guitars, basses, and percussion.
This show sees the reconvening of the ensemble to present this ambitious work in full, following a Sold Out show at Islington Mill back in 2016 and a performance at 2017's Supersonic Festival. Tickets are available from skiddle.com.