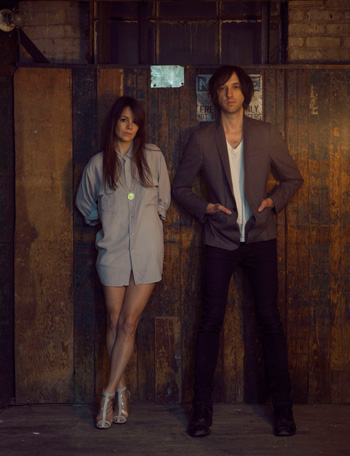 The Hundred In The Hands are releasing their new album 'RED NIGHT' on June 12th via Warp Records, and in anticipation, the band have shared Andy Stott's ethereal remix of their single "Keep It Low." The remix swells with added bass and percussion, which Stott transposes against Eleanore Everdell's transfixing vocals throughout. It can be found on the 12-inch "Keep It Low" single, which includes an original B-side ("Mountains"), and additional remixes from JD Twitch, who turns in two great Optimo reworks. The single will see a release on May 28th via Warp Records as well.
Of the Andy Stott remix, the band says, "We were listening to Andy Stott's "Passed Me By" and "We Stay Together" EP's a lot as we started the record. So many good ideas and textures, with low end in the extreme that kind of rattled our minds a bit. When it came to looking for people to remix, he was first on the list."
'RED NIGHT' is a self-produced meditation on separation and reunion, love nearly lost and the long night back to it; a chronicle of late-hour pining awash in digital glow and urban buzzing. Album opener "Empty Stations" begins with a haunting string arrangement that is overtaken by a propulsive rhythm and Eleanore's spellbinding vocal turns. "Come With Me" guitar stabs, icy keyboard, and polyrhythm underscore the lyrical siren's call. The heart broken vocal on "Faded" wraps itself around the spiraling bell and fragile arrangements to devastating effect.
The goth R&B monster "Stay the Night" is a tale of yearning with a seductive slowed-down groove. The vast soundscapes of "Lead In The Light" start out sparse and build to an otherworldly climax and then back down again. 'RED NIGHT' is an opportunity to enter the winding tunnels of The Hundred in the Hands' nocturnal city where time stretches, tempos drop, and guitars plunge rumbling and throbbing out against denser and denser vocals as the story unfolds. The band's boundary-pushing sound is unafraid to marry minimalism and abstraction with big melodies.
UK Tour Dates:
5/29 – London – White Heat at Madame Jojo's
5/31 – London – Hoxton Square Bar & Kitchen
6/01 – Cambridge – The Portland Arms
6/02 – Bristol – Dot To Dot Festival
6/03 – Nottingham – Dot to Dot Festival
6/04 – Manchester – Dot To Dot Festival
www.thehundredinthehands.com
www.facebook.com/thehundredinthehands
www.myspace.com/thehundredinthehands
www.twitter.com/thehundredinthe