Marriages is a new band comprised of Red Sparowes members Emma Ruth Rundle (vocals, guitar), Greg Burns (bass, synthesizer) and David Clifford (drums). Their sound is a singularly sensual kind of heavy, dramatic rock, but perhaps the most stark contrast to their other band, Marriages employs vocals in their songs. Their music is also considerably darker and more experimental, drawn from a wide range of styles and ideas. Emma's breathy, understated delivery provides a focal point – the eye of the proverbial storm. A haunting presence, as elusive as it is alluring, her voice is a shore upon which waves of overdriven bass, thunderous drums, and cosmic guitars and synths swell and crash.
'Kitsune' is their 6-song debut release, a short introduction of an album whose undeniably epic proportions suggest massive things to come. Recorded with the formidable Toshi Kasai (Melvins, Red Sparowes, Tool) at the controls, 'Kitsune' presents a collection of poignant, emotionally-charged tracks that wriggle free of easy classification. The comparisons are diverse; Cocteau Twins and Zola Jesus would appear to be as influential as Boris and Godspeed You! Black Emperor. The songs came together quickly as the band wrote and played their first shows in November 2011 and wrapped recording in January 2012.
Album opener "Ride in My Place" sets the tone, immediately revealing the undulating, reverb-cloaked darkness at the band's core. Sounding not unlike PJ Harvey fronting an overdriven rendition of Pink Floyd's "Echoes", the fittingly-titled song arrives as a fully-formed companion piece for expansive landscapes, perhaps traversing the vastness of the American west. Hardly overstaying its welcome, the track soon gives way to "Body of Shade", whose cryptic "My body gone forever…" lyric suggests a sort of transcendence echoed in the music itself — Clifford's steady backbeat, the tense rhythm and the swirling interplay of synth and cascading guitars recalling the finer moments of The Verve's early recordings. Opening with a celestial keyboard loop and quickly gaining weight, third track "Ten Tiny Fingers" builds upon a heavy dirge-like rhythm punctuated by Rundle's vocals, which by now clearly occupy a place among esteemed peers such as label mates Chelsea Wolfe and Lisa Papineau. The song's cryptic, claustrophobic lyrics, contrasted with a loose (but by no means less thunderous) atmosphere and sense of impending collapse bring to mind The Cure, circa Pornography. The next track, "Pelt", is borne from the decaying remnants of "Ten Tiny Fingers". A menacingly hypnotic three-minute meditation on minimalist doom, it serves as the perfect introduction to the distorted, bass-driven hard rock and wailing psychedelia of instrumental track "White Shape".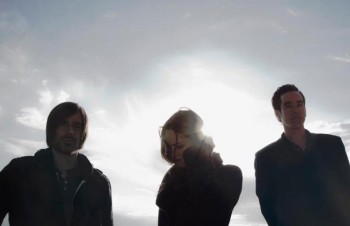 Seven-minute closer "Part the Dark Again" is a song whose cinematic scope recalls precisely the kind of grandiosity Red Sparowes are synonymous with, taken to its logical extreme. The impassioned, struggling-against-the-odds sentiment of the vocals ("Part the darkness in my heart", "Don't say it's nothing…", etc.) takes things over the top emotionally, culminating in a soaring, melancholic riff that grinds to a halt far earlier than you'd expect. Throughout, Rundle unassumingly steps to the forefront, showcasing her unique talents as a guitarist often overlooked within Red Sparowes' three guitar onslaught.
'Kitsune' is available on LP, CD and download via Sargent House as of May 1st, 2012.