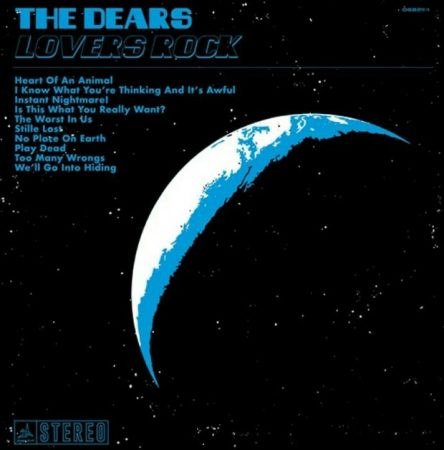 The band who put the drama into indie rock are back with their eighth album. The big sounding orchestral backings are in place as are the soothing melodies, yet the explosive riffs and uplifting choruses are never far way either.
The Montreal band led by husband and wife duo of Murray Lightburn and Natalia Yanchak achieved worldwide recognition with their 2003 album 'No Cities Left' which emerged whilst war raged in the Middle East and the world felt like it was in uncertain times. Leap to 2020 and the same uncertain mood prevails, different circumstances, same unclear path ahead, and it's time for The Dears to unleash a new album.
There's a cinematic feel throughout the whole album, with a slightly dystopian melancholy in places, all alleviated by big choruses, a perfect soundtrack for these times. 'Heart Of An Animal' sets the tone, sounding like John Grant meets Echo & The Bunnymen in a post apocalyptic thriller, guitarist and vocalist Lightburn's vocals soaring for an anthemic chorus boost before the more reflective tones take over again.
'The Worst In Us' leaps from sweeping orchestral indie to a bit that, to be honest sounds a bit like the beginning of 'Our House' by Madness, but in The Dears hands it's a piano break backed with synths and beats which emerges into echo laden guitars by the end. Another highlight is 'Stille Lost' with its huge saxophone melody from Bruce Springsteen's E Street Band member Jake Clemons, shaking its foundations to the core, then there's The Dears brand of dramatic love song shining through on 'No Place On Earth'.
The Dears have always been masters of powerful indie rock with a twist, and on their eighth studio effort have created an album which reflects the uncertain times we live in today, but also offers a big warm hug of reassurance too. An album that's an orchestral infused, indie rock, shoulder to lean on.
The Dears: Lovers Rock – Out 15th May 2020 (Dangerbird Records)