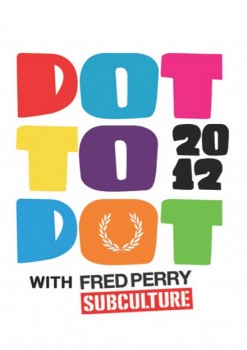 The countdown to this year's Dot To Dot is hotting up with just a month to go until a litany of the globe's biggest buzz bands hit Bristol, Nottingham and Manchester over this coming Jubilee Bank Holiday weekend. Headlined by The Drums and Pulled Apart By Horses, and with appearances from Wavves, Willis Earl Beal, Dog Is Dead, Summer Camp, Lucy Rose, Pond and more, the tri-city event is set to reveal even more must-see acts for 2012, and you can catch them all for the mind-blowing ticket price of just £20!
Currently enjoying widespread critical acclaim for his second, Steve Albini produced, long player 'Attack on Memory', Dylan Baldi AKA Cloud Nothings who first came to the music world's attention with his pithy lo-fi power-pop in 2009 are the first of the latest wave of bands to be announced for Dot To Dot. Honing his craft on the road over the past two years with a crack live band, Cloud Nothings' sound has quickly matured into compelling gritty indie-rock territory, giving the band a real shot at stadium-filling glory, so make sure you catch them first in intimate surrounds at Dot To Dot.
One of the most exciting bands to have emerged from New York in the past year, Dot To Dot are delighted to announce that Friends will be playing the Nottingham leg of this year's event. Named after Brian Wilson's favourite Beach Boys album, Friends have left a trail of slack-jawed hipsters in the wake of their effortlessly cool percussive heavy take on post-disco funk-pop. Taking Liquid Liquid and ESG's blueprint and bringing it bang up to date, they're a top drawer live act that knows how to rock a party.
Also adding some serious weight to proceedings are The Internet, Syd Tha Kyd and Matt Martians from Odd Future playing their only shows outside of London. The first act out of the traps on OFWGKTA's Odd Future Records, with their debut long player 'Purple Naked Ladies', The Internet's hip-hop soul has garnered them high praise across the board. Sibling duo 2:54 will also be bring their love of a bit of lo-fi action to Dot To Dot. Embodying the new face of Riot Grrrl, 2:54's blend of ethereal vocals and abrasive guitars has made them a stand-out live act who are sure to be one of Dot To Dot's biggest draws.
Mixing pure emotion and rock n roll dynamics, A Plastic Rose will be demonstrating exactly why their incisive riffs have been winning over audiences across the UK and Ireland. With their debut album due for release in September this year, the band are releasing a series of singles and hitting the festival circuit in the run up, beginning with their performance at Dot To Dot.
Channelling the spirit of Britrock, Stoke's All The Young, who are currently making a name for themselves reinvigorating guitar-powered rock n roll for a new generation will also be joining the bill. A direct reaction to the identikit pop that currently rules the airwaves, All The Young's swaggering live show is one not to miss.
Canadian tip for the top Doldrums; another of the latest bands to join the bill, are set to be journeying the triumvirate of Dot To Dot cities. Fusing art-rock and electronica, Doldrums AKA Aldrick Woodhead is one of the most forward thinking producers around.
Steeped in the defining sounds of the last 60 years of pop, music obsessives Two Wounded Birds who have steadily built a reputation as one of the best live bands on the circuit will also be hitting Dot To Dot's triumvirate of cities. Championed by The Drums' Jon Pierce, the band has also gained high praise from the Beach Boys' Brian Wilson and Blondie's Debbie Harry for their exhilarating performances and timeless pop.
Psychedelic electro folk five-piece Here We Go Magic will also be appearing at Bristol on June 2nd and Nottingham on June 3rd. Creating their songs from melodies that can turn from gorgeous to challenging to a little scary and back again, they're truly mesmerising and worth seeking out.
Adding even more thrills to the burgeoning bill, there will also be appearances from double-headed mackem drum behemoth Hyde & Beast (featuring the The Futureheads' Dave Hyde and Golden Virgins' Neil Bassett), luscious Leeds based vocal harmonisers The Dunwells, alternative rocker Eugene Francis Jr (Bristol/Manchester), Brooklyn's hardcore psych-rockers The Men who will be playing the Manchester leg on June 4th, soaring guitar-smiths Last Dinosaurs, disaffected pomp from O Children, a DJ Set from Metronomy's Olugbenga, 19 year-old wunderkind Lewis Watson who has clocked up more than two million YouTube views for his emotionally charged song writing, Josh Kumra whose gutsy and heartfelt live show is getting those in the know hot under the collar, uber-producer and rising start Kwes, singer songwriter Mary Epworth, Bristol mobs The Other Tribe and Seasfire playing their hometown date and electro trio Sunless 97 in Nottingham and Manchester.
As well as championing the most vital new music around, Dot To Dot organisers will is also be nurturing wider creative talents in 2012 with a competition to get your hands on a coveted photo pass! Dot To Dot have a photo pass, which gives you access to Dot To Dot venue photo pits, for each city up for grabs, and all you have to do to enter is post the best live shot you've ever taken to twitter with the hashtag #D2DFestPhoto or tag Dot To Dot Festival in your photo on Facebook. Three winners (one for each city) will receive a photo pass and the chance to get up close and personal with some of the most exciting acts around. This is a rare opportunity or you to get your foot in the door of the world of live photography, don't miss it!
There will be more acts and competitions plus venue news in the coming weeks, so keep an eye on http://www.dottodotfestival.co.uk/ and Dot To Dot Festival's Facebook for the low down.
Tickets are now on sale now:
Bristol £20
Nottingham £20
Manchester £20
Visit http://www.dottodotfestival.co.uk/ for all ticket info
Full Line Up So Far: The Drums / Pulled Apart By Horses / Willy Mason / Wavves / Summer Camp / Willis Earl Beal / Dog Is Dead / Friends (Nottingham) / Lucy Rose / Jake Bugg / Cloud Nothings (Bristol / Manchester) / Hooray For Earth / The Internet / Neon Indian (Manchester) / 2:54 (Nottingham / Manchester) / A Plastic Rose / Admiral Fallow / All The Young / Bastille / Beth Jeans Houghton (Bristol) / Bondax / Broken Hands / Clock Opera / Deaf Club / Dirty Goods / Doldrums / The Dunwells / Eugene Francis Jr (Bristol / Manchester) / Eyes on Film / Here We Go Magic (Bristol / Nottingham) / Hyde & Beats / Islet / Josh Kumra / Kwes / Kyla La Grange / Last Dinosaurs / Lewis Watson / Lulu James / Mary Epworth / The Men (Manchester) / Murray James / The Night / O Children / Olugbenga / The Other Tribe (Bristol) / Patterns / Peace / Pearl and the Beard / thepetebox / Pond / Rae Morris / Random Impulse / The Rumour Said Fire / Ryan Keen / Scoundrels / Seasfire (Bristol) / Shinies (Manchester) Sunless 97 (Nottingham / Manchester) / Swiss Lips / Turbowolf / Two Wounded Birds / Vandoinmessico / Wonder Villains
Bristol: Saturday 2nd June 2012
Nottingham: Sunday 3rd June 2012
Manchester: Monday 4th June 2012