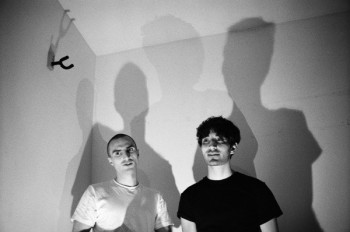 Majical Cloudz is the voice of Montreal songwriter Devon Welsh exploring the negative space within electronic music, using his powerful vocals to say 'no' to the infinite possibilities digital instruments provide and instead choosing to focus his attention inwardly.
Joined by Matthew Otto to collaboratively produce and perform his songs, the 2012 debut album II and the Turns Turns Turns EP released on Arbutus/Merok in December 2012 gained praise for their simplicity and honestly, now Impersonator brings Welsh's songs into even sharper focus as the expressive power and swagger belie the extremely minimal music.
These are intensely lyrical songs about death, patience, family, friendship and desire, with Welsh's rich vocals atop quiet looped waves of white noise, filtered synths and sparse thuds.
Welsh cites Elliott Smith and Arthur Russell as the two biggest influences on his song writing. While Impersonator sounds like neither, Smith's lyricism is evident, as is Russell's ability to distil a number of seemingly contradictory stylistic ideas into a single focused statement. Other records that Welsh listened to while writing the album point to the diversity embedded in Impersonator's deceptively simple approach: Drake's Take Care, Oneohtrix Point Never's Replica, Kurt Vile's Smoke Ring For My Halo, Grouper's AIA, Kraftwerk's Trans-Europe Express, Paul Simon's Paul Simon, John Lennon's Plastic Ono Band.
Tracklisting:
1. Impersonator
2. This Is Magic
3. Childhood's End
4. I Do Sing For You
5. Mister
6. Turns Turns Turns
7. Silver Rings
8. Illusion
9. Bugs Don't Buzz
10. Notebook
Release Date 27/05/2013 (Matador Records)