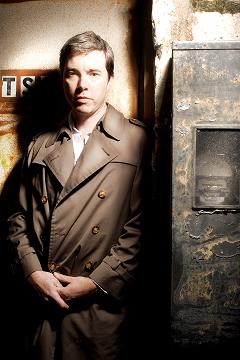 – CENTRAL METHODIST CHURCH, MANCHESTER –
The queue for Manchester's Central Methodist Church stretches all the way down Oldham Street to Piccadilly Gardens, and consists of people of all ages and backgrounds, all braving the sporadic sudden downpours in anticipation of spending an evening in the company of one of the most widely revered and enigmatic singer/songwriters of his generation.
Over the past twenty or so years Bill Callahan has recorded 14 studio albums, all but the last three under the alias of Smog, and has established himself as a master lyricist and hugely compelling musician with his own unique brand of consistently excellent gothic, lo-fi Americana.
The stage is illuminated by a swirling red pattern, which resembles the liquid in a lava lamp on a huge projection screen as Bill Callahan takes to the stage dressed in a corduroy suit to begin his set. Opener 'Riding For The Feeling' from current album 'Apocalypse' nicely sets the tone for the whole show. The first line which Callahan delivers is "it's never easy saying goodbye," and it's instantly apparent both how strong his baritone is, and how wonderful the acoustics and the sound in general are at this venue. Every note is crystal clear.
The first half of the set consists almost solely of material from the two most recent albums. Highlights include an incredible rendition of 'America,' with its funky, foot stomping guitar and drums recalling Gil Scott-Heron.
Tonight Callahan is backed by Matt Kinsey on guitar and Neal Morgan on drums, and both deserve special praise for their performances. Morgan's drumming is loose and jazzy, and he changes between brushes, sticks and even playing with his bare hands on a couple of tracks, all of which lend a real sense of diversity to his sounds.
Kinsey is equally versatile, and uses his array of pedals and effects to create sounds akin to pedal steel and gorgeous reverb heavy solos. It's fascinating to see how carefully both Morgan and Kinsey watch Callahan for their cues, and as a three piece they seem to have forged a strong mutual understanding since recording 'Apocalypse' together.
If there is one drawback this evening it is the stifling heat in what appears to be an oversold and heavily crowded venue. Bill Callahan's music is always engaging on record, but after an hour and a half with little change in pace and vocal delivery combined with the uncomfortable conditions the audience's attention seems to waver a little. This remains, however, a minor gripe after witnessing what for the most part was a stellar performance from a remarkable musician and songwriter.