From time to time, one of our contributors will recommend an artist/band they think deserves to be brought to your attention. No record labels, PR companies, bands or band's management will ever have made these recommendations. It is simply one music fan putting their taste on the line in the hope of sharing good music. The questions are intended to give just a basic introduction to possibly your new favourite artist/band.
So without further ado, let's crack on with another introduction, in which Silent Radio's Parisa recommends The Portlands for your audible delectation.
*****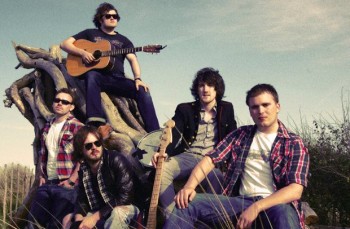 Who are ya?
The Portlands, 5 piece rock group, consisting of Dook Dootson on Vocals / guitar, Nick Dunai on Guitar / BV's, Tim Isherwood on Guitar / BV's, David Isherwood (no relation) on Bass Guitar and Max Winnington on Drums. The name's from the idea of Portland in Oregon, USA, where lots of our favourite bands come from. There's a lot more of a collective scene over there where everybody plays on each others albums and helps each other out. We've found that being in bands around Manchester for a few years there's a lot less of that community atmosphere. Everybody just wants to be the next Liam Gallagher, so with Portland St being the main strip in Manchester we wanted to pay homage to that idea.
Where are you from?
We're mainly from Leigh, which is near Wigan, though Max our drummer is from Altrincham. We actually founded on top of a high rise flat in Salford though! Dark times… hahah
How long have you been doing what you're doing now?
Since around November 2008. With the demise of some other bands around the time it was just perfect timing for Dook and Nick to start jamming together. Originally it was acoustic numbers, which then progressed and progressed. At one point there was 13 of us in the studio with violins, horns, etc. but now we've stripped it down to a more manageable 5 piece. It's mainly just a rock sound now with us trying to make it sound larger and larger!
Is being a musician your full time job?
Pretty much, though it's difficult. We don't make a lot of money from it, but it beats working 9 – 5! The food's shit though.           
How would you explain your sound to someone's 90 year old grandmother?
I'd tell her she wouldn't like it.
Are there any obvious influences in your music?
I think some of the obvious influences are ones which arne't so obvious. I think you can definitely hear Bright Eyes and Elliott Smith in there – yet they're totally different genres. We're into all sorts though and I think it's a good range of influences coming together that makes for creative music.
Are there any not so obvious influences in your music?
Yeah, I'm still struggling to bring my Hungarian throat chanting into the songs. I just can't find the right melody.
Apart from yourself of course, what other band/artist would you recommend our readers check out?
If you mean local bands then I'd definitely suggest The Lottery Winners. Theyr'e good friends of ours and we gig together frequently, they've got some great songs and they're fantastic live.
In terms of bands that don't need our endorsement, The Smashing Pumpkins, Bright Eyes, Townes Van Zandt and Leonard Cohen can all melt faces pretty well!
Best place for people to find out what you are up to?
http://www.facebook.com/theportlands – we're always around on there writing silly status' and keeping you up to date with gigs and whatnot!
Anything to declare?
Our new EP, Noctilucent EP comes out in the first week of May. Produced by guitar legend Jerry Donahue ( http://en.wikipedia.org/wiki/Jerry_Donahue ) New music video will be out around then with us dressed as Nuns and Hare Krishna's. Headlining Manchester Academy 3 on July 14th for what w'ere hoping to be our 4th sell out show there. 3 week German tour from October 30th 2012. Busy busy busy!