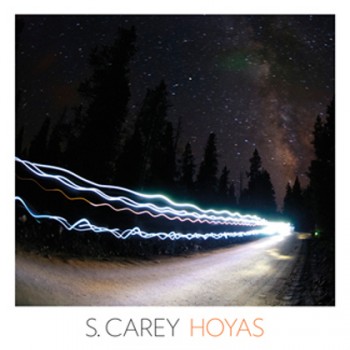 Hoyas by S. Carey is a hospitable statement about love, longing and the celebration of knowing it well. You will find the familiar S. Carey modern classical repetition pushed into the vernacular of electronic music and beat-making. This is the warmest electronic music you'll ever meet. The beats swing, stutter and pulse while each instrument retains a heightened awareness of its form and function within the larger family of voices.
Each Hoyas song has its own personality, each part inseparable from the body, and while the results might be surprising to some, they shouldn't be.
S. Carey has historically illustrated a very rare breadth as an artist, not only as a member of Bon Iver, but on recordings of his own, whether from his debut full-length, All We Grow, performing cover songs, or in remix work. With Hoyas, Carey's uncontainable talent is hard at work exhibiting some of the deeper colour palettes that music can offer. But most impressively, Carey's talent can now be seen to be growing by leaps and bounds. His range as a singer is progressing into much bolder territories, as evidenced not only on Hoyas but on the Bon Iver at AIR Studios recordings where just his voice, Justin Vernon's voice and two pianos mesh perfectly to create an unforgettable performance for the ages.
Hoyas started as a collaboration with a friend, Ben Lester, best known for his drumming and pedal steel work with A.A. Bondy. Carey and Lester began bouncing ideas back and forth a little over two years ago. They gradually came to four songs that had a life together. Recorded mostly in his attic studio with Lester, using a single laptop and not much else, Hoyas' songs exemplify home recording's possibilities. Some sounds were composed by handcrafted instruments and others by junk. At times, Carey tracked vocals using nothing more than his laptop's internal microphone, and most of the beats and synthesized sounds were sequenced and arranged using stock-software. The EP was then mixed and produced by the Grammy-award-winning team of Justin Vernon and Brian Joseph of Bon Iver, and mastered by Jeff Lipton at Peerless Studios in Boston.
Hoyas will be released on May 7 on CD/12″/Digital formats.