Being Frank: The Chris Sievey story is the official documentary about Manchester alternative comedian and musician Frank Sidebottom and his creator Chris Sievey.
Throughout the month of May a Kickstarter camapign will be running to help get the film made. Kickstarter is a platform where fans can buy into the film to help fund the production. In this case there are several rewards for donating. Anything from a simple 'I thank you', purchasing different formats of the film in advance, 'I should be so lucky boxes' which contain items owned by Chris Sievey and may have actually been used in his act, and the top givers can get a 'I should be so lucky experience'. Full details are available on the Kickstarter page.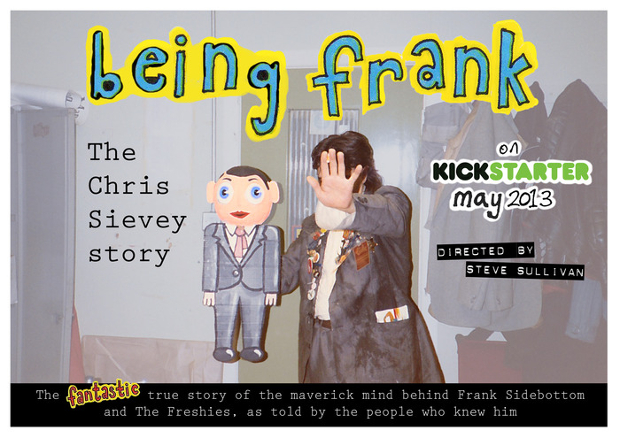 Across the North West of England, everyone knew the maverick comedian in the papier mache head. You couldn't really miss him. With his smooth hair, big blue eyes and nasal voice, Frank was everywhere. Armed only with cardboard puppets, and a repertoire of absurd songs, Frank Sidebottom took the Manchester performance scene by storm, eventually building up a huge cult following around Britain.
But Frank's real identity was a closely guarded secret and only a handful of people knew who was actually beneath the head. Now, following his untimely death in 2010, Chris Sievey's family, close friends and colleagues are prepared to discuss this innovative, wayward genius for the first time and explain why he chose to spend 28 years hiding his identity and letting a fictional alter ego steal his limelight.
The documentary will explore Chris' complete artistic output; focusing not just on the hysterical career of Frank Sidebottom, but also Chris' music career and his post-punk band The Freshies (famous for holding the record for most consecutive failures to make the charts – 26 flop singles in a row!). The film will also delve into the many illustrations and paintings that Chris did as himself, not as Frank Sidebottom, and his other artistic outlets, such as programming computer games and homemade 3D.
Full details of the film and a great intro video can be seen here.. Being Frank: The Chris Sievey Story