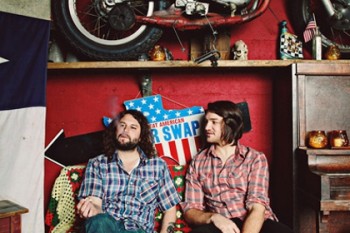 The Seattle music scene, famous for its contribution to breeding amazing musicians in the USA has once again delivered another rocking band that are coming for your ears this summer. Local garage duo My Goodness are about to unleash their energy-packed blues-rock to the UK and release their debut single 'C'Mon Doll' digitally on Monday 28th May following their debut UK tour.
My Goodness keep their blues-infused bluster simple and economical. They pare it back to the bare bones with use of just one guitar and a drum kit with vocals cutting through the middle. In their world, less is more. It's all about the power of two. It's about liberation too – and the unreconstructed idea of having fun.  Just plugging in and letting rip. It's about amplified, electrified music. Stroppy, wired and armed with tunes a-plenty, just as it should be.
The band was born when Joel Schneider and Ethan Jacobsen closed a bar one night in January 2010 and went for a drunken jam in a nearby practice space. Both were working in iconic/historic Seattle venue Neumos and already in other bands but the two needed to bust loose.
Their debut single 'C'Mon Doll' and b-side track 'Lost in the Soul' was recorded in Red Room Studios, Seattle with producer Chris Common from These Arms Are Snakes who also recorded their debut album scheduled for release in the UK later this year. Everything was recorded to tape – no Pro-Tools, no digital enhancing.
This live and raw approach carries over into My Goodness' live shows too. See this for yourself on their debut UK tour at the following dates this May in support of We Are Augustines.
2nd May – Manchester Academy 3 (SOLD OUT)
3rd May – Dingwalls, London (SOLD OUT)
6th May – Hare and Hounds, Birmingham (SOLD OUT)
9th May – Academy 2, Liverpool
10th May – ABC, Glasgow
Find My Goodness at their social networks:
Twitter: http://twitter.com/mygoodnessjande
Facebook: http://www.facebook.com/MyGoodness