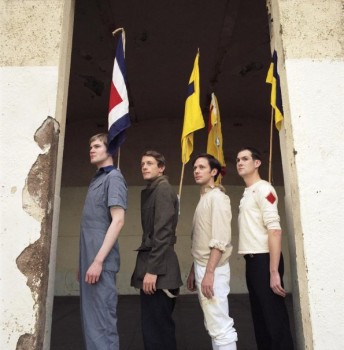 – MOHO LIVE, MANCHESTER –
It would be a disappointment if there were no surprises in store at a British Sea Power gig.
Tonight, these do not come in the form of twigs, branches, towers made of men and weird locations, but rather in much less conspicuous ways.
Number one, since they last played Manchester at the Ritz the band has built up a surprisingly large following of slightly overweight young-to-middle-aged men sporting crew cuts. Maybe the word 'British' is being taken too literally…
Surprise number two – Yan's hairdo can withstand any exterior forces. Number three, the band largely shunned one of their finest albums to date tonight – 'Open Season' – and opted instead to promote their newer 'Man of Aran' material.
Maybe this last point is a good thing, no matter how disappointing, as reinvention, exploration and a fresh approach have to be better for a band's future survival than leaning on past glories.
British Sea Power can always be relied upon for a consistently great performance and although the surroundings do not offer the band as much creative room to move as they usually opt for, tonight is no exception.
They engage the crowds by thrusting mic stands into the audience, play their instruments so hard that they almost merge with them and unleash well-loved tunes at exactly the right times.
After almost a decade together, frontman Yan's deep, concise vocal has not worn thin and is the band's powering force in a live setting.
Their edgier tunes, such as 'Remember me', 'Fucking up' and 'Waving Flags', sit happily alongside epics like 'Canvey Island' and 'Scottish Wildlife', which can transport a person from the sweaty holdings of the Moho Live basement to the peak of a windswept moor. Just smell that fresh air…
The latest addition to the line-up, viola player Abi Fry, gives the band something their live shows may have been missing before – namely that instrumental, orchestral feel that is so prominent on their records.
In short, no matter what changes are bubbling up in the band's cauldron, a British Sea Power ticket in your back pocket guarantees a quality evening.