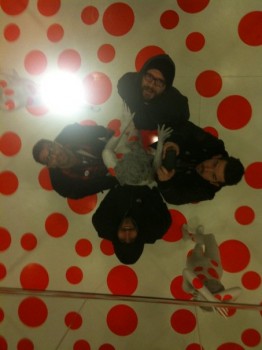 – THE DEAF INSTITUTE, MANCHESTER –
Brooklyn is currently well established as a creative hotspot, particularly for US indie and experimental music. The members of tonight's headlining act, Bear In Heaven hail from Georgia and Alabama but relocated to Brooklyn, where they have developed an exhilarating sound which combines psych, minimalist pop and krautrock and in 'Beast Rest Fourth Mouth' have produced an album which is strong enough to mark them out from other acts within the scene.
Support comes from Leeds act Spectrals, essentially a one-man band (that man being Louis Jones) extended to a four piece for playing live. They have been heavily hyped, picking up rave reviews on websites on both sides of the Atlantic, and tipped for big things this year. There lo-fi pop sound, which draws influence from doo-wop, surf rock and 50s rock and pop is convincingly played but essentially uninspiring, and they end up coming across like a wedding band. Maybe I'm missing the point, or they sound better on record but by the end of their set I'm bored to tears.
It's a great relief when Bear In Heaven finally begin with moustaches blazing. The tribal sounding drums of current album opener 'Beast In Peace' lift the atmosphere and 'Ultimate Satisfaction' is perfect example of what this band are all about, taking relatively sparse arrangements and effects and conjuring a sound which really fills the venue and sounds much grander and bigger than the sum of it's parts.
Bear In Heaven are playing as a three piece tonight, missing Sadek Bazarra on bass and keyboards, and as the set draws on his absence becomes more problematic and on occasion they are found wanting.
Drummer Joe Stickney is an amazing presence and incredibly talented, but it seems as though several parts of the songs being performed are pre-recorded and when the drum parts are more involved some of the vocals and more intricate sounds are lost in the mix. Set highlight 'Lovesick Teenager' goes some way to readdressing the balance, with it's more simplistic beat allowing Jon Philpot's dreamlike vocal and synth sounds to really shine through.
Overall Bear In Heaven are good value for the praise and critical acclaim they have been garnished with recently. They are a band whose music is capable of taking you places, and at times tonight you feel immersed. Their live sound just needs a little fine- tuning if they are to reach their full potential.