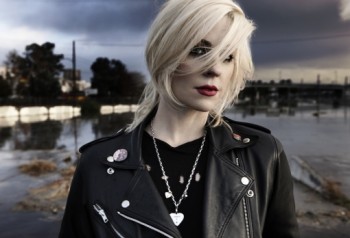 – ACADEMY 2, MANCHESTER –
Manchester's Academy 2 welcomes with some anticipation the return of former Distillers and Spinerette anchor Brody Dalle as part of her short promotional tour to mark the release of her first solo album Dipoid Love (release date 28/04/14)
The album has been a long time in the making, some 4 years since Spinerette disappeared. Tattooed Dalle herself admits to having had zero confidence by the time the band split up, but her return to the stage clearly shows that she has overcome any personal problems she may have had throughout her already long career. Dressed in pseudo punk black top and leopard print pants Brody looks a healthy reincarnation of her former self. No blazing introduction, she opens with 2 tracks from her new album, 'Rat Race'  and my own personal favourite, the booming rhythm of 'Don't Mess With Me'. On the evidence of  the opening numbers I don't think anyone would mistake what we are  witnessing as the familiar rasping vocals of Dalle ripped across the auditorium. 'I Am Reverent' from the 2002 album Sing Death House starts the repertoire from the back catalogue, which includes 'Die On A Rope', 'Sick of It All', 'Dismantle Me' and of course title track from  the parting Distillers album Coral Fang. Dalle is every bit as punk as when she left us.
At times, she clearly has difficulty in hearing herself, but that doesn't detract from a polished performance including some intricate material from her new album. Ably assisted by long time colleague Tony Bevilaqua, they pump out numbers with the  precision of a duo that have played together for over a decade. Brody herself is a natural with the guitar, only once putting it down to enable her to bounce up and down in tune with the crowd beneath her. She's been playing since she was 13, and she demonstrated this like a veteran throughout tonight's show. 'Ghetto Love' allowed the sing-a-long to the chorus the crowd had been waiting for, and appreciated with loud ohh whaa ohh whaa to accompany the familiar image of Dalle, hair tossed and strewn across her face, mascara running down her cheeks, and even without the guest vocals on the album, 'Meet The Foetus' proved to be the outright winner from the new material, evidential that an awesome video on YouTube will be sufficient to entice the album buying public when it is eventually released on the 28th April. Famous for her 'no encore' policy Brody informed the audience 'I'm playing this shit for you now guys' nonetheless, sufficient numbers remain to plead for more when the lights go on as Brody leaves the stage waving her guitar high above her head.
At barely over an hour, the audience was always going to be left wanting more, but there is no doubt, Brody is back, if she had ever really went away at all. If there were such a title, tonight's performance would ensure she is a contender for 'The Queen of Punk'.
Brody Dalle  Official | Facebook | Twitter | Youtube