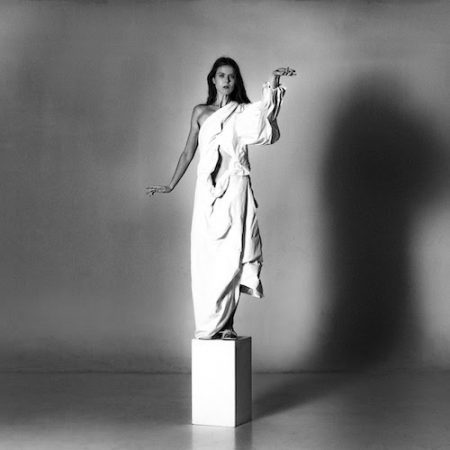 'Museum' is an album that inspires references to lightness, delicacy, cleansing, flowers, breezes and clouds. However, as the average cumulous cloud weighs 500,000 kg, the equivalent of 100 elephants, it is unwise to trust music journalists' adjectives and metaphors or use them as a guide to life.
JFDR is the project of Icelandic experimental singer, songwriter and multi-instrumentalist Jófríður Ákadóttir. 'Museum' is her second album following 2020's debut 'New Dream'. She has previously released records as a member of Pascal Pinon and Samaris, collaborated with Ólafur Arnalds, Damien Rice, and Penelope Trappes, and scored the award-winning Icelandic film Backyard Village. Ákadóttir sees 'Museum' as an album reflecting a period of healing and a new spate of energy after a spell of statis. 
Opening track, 'The Orchid', has a very bearable lightness of being. With a feather reference, delicacy to its electronic melody and breathy vocals (while the accent is understandably reminiscent of her compatriot and admirer, Bjork, the phrasing does not share her harsher quality), it is utterly enchanting like a montage of a flower blooming.
Second song, 'Life Man', is a reflection on hectic lives and the shock that comes with the time for contemplation. It has a more urgent, troubled pulse reflecting the sentiments ("I can't be alone on my own / For too long / I'm a wilted flower  / When I miss you so… When the therapist operated on me / He simply raised his eyebrows and said; Life, man") but laced with another beguiling melody.
'Spectator' is an anthem for the codependent. It starts with acoustic guitar before electronics waft it into a higher stratosphere. The musical bliss contrasts with the references to being "in over my head" and "watching you both take out your fear on me". To tinkling piano and slowly growing electronics, 'An Unfolding' maintains the unease ("are you afraid I am strong … why can't you believe the best in me, honey"). The understated instrumental 'Flower Bridge' offers a further floral reference.
'Valentine' captures the flavour of a patient, unhurried record with its undulating piano and electronic manipulations. There is a suggestion of rebirth ("I can hear you quietly remembering how to live") but also the acknowledge that subject and object are alone.
'Sideways Moon' is the most intense track on 'Museum', the electronics have a troubled air, albeit quietly so and there is a melodrama to the ebb and flow of Ákadóttir's vocals, even though they barely rise above a whisper ("skin I know I'm chiselling off what I had sculpted / I loved you most exciting / unattainable / shadow in the mirror…. I catch myself crying / I wonder why / it's easier to forget it all / it all until we die"). 
'February' has a soothingly floaty melody, some mysterious observations about an old man flaunting the sunshine to his iPad, throwing branches off a Christmas tree from the balcony and what could be a pandemic reference "do we get to dance when / we can touch each other again? /I miss things I didn't even know I had around".
'Museum' closes with 'Underneath The Sun', a song of great beauty. With its acoustic guitar strum, it feels uncomplicated as if she has landed safely despite drinking to the mishaps of old days, toasting that "I am safe in your hands / if I fall, from you or towards, I have somewhere to land". It is a lovely ending to an introspective record of appealing depth.
JFDR: Museum – Out 28th April 2023 (Houndstooth)