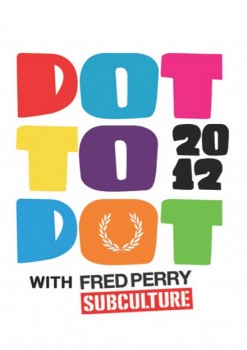 Already well-established as the festival that brings you future stadium-fillers before any other event, Dot To Dot is set to unveil the second wave of acts on this year's bill. The UK's only touring festival, Dot To Dot will visit a multitude of venues in Bristol, Nottingham and Manchester this coming Jubilee bank holiday weekend headlined by The Drums and Pulled Apart By Horses and featuring some of the most electrifying up and coming acts currently around.
Dot To Dot Organiser Anton Lockwood said: "Our second announcement for Dot To Dot 2012 sees us welcome some of the most hotly tipped new acts in the world, including some stars of SXSW. This is what Dot To Dot is all about!"
Kicking off the latest announcement are San Diego surf punks Wavves. Fast, intense, riff propelled mayhem is the order of the day, ensuring Wavves will be raising the energy levels across all three cities.   One of the most captivating artists currently getting those in the know all hot and bothered, Willis Earl Beal will be showcasing his Acoustic Sorcery for the Dot To Dot masses, Hooray For Earth will be unleashing their synth-driven psychedelia to whip up the crowds, SXSW sensations (and Tame Impala spin off) Pond will be demonstrating just why they're being so hotly tipped and Texan art-pop wunderkind Neon Indian will be making a one-off Dot To Dot appearance in Manchester on June 4th.
Other acts playing across the weekend include Nottingham's latest singing, song-writing prodigy Jake Bugg, Danish indie folksters The Rumour Said Fire, renowned chanteuse Beth Jeans Houghton who will joining the event for the Bristol date and off-kilter instrument swappers Islet, plus there will be appearances from Patterns, Peace, Rae Morris and Random Impulse. And that's not all, as other acts set to join this year's Dot To Dot bill include Admiral Fallow, Bastille, Bondax, Clock Opera, Eyes On Film (Nottingham and Manchester only), Lulu James, Murray James, The Night, Scoundrels, Shinies (Manchester only), Swiss Lips and Turbowolf.
With tickets at an incredible £20 and a staggering list of the most exciting bands around already confirmed plus many more still to be announced, Dot To Dot is a must-see festival for 2012.
Full Line Up So Far: The Drums / Pulled Apart By Horses / Willy Mason / Wavves /
Neon Indian (Manchester Only) / Willis Earl Beal / Dog Is Dead / Lucy Rose / Hooray For Earth / Summer Camp / Pond / Admiral Fallow / Bastille / Beth Jeans Houghton (Bristol Only) / Bondax / Broken Hands / Clock Opera / Deaf Club / Dirty Goods / Eyes On Film (Manchester & Nottingham) / Islet / Jake Bugg / Kyla La Grange / Lulu James / Murray James / The Night / Patterns / Peace / Pearl & The Beard  / Rae Morris / Random Impulse / The Rumour Said Fire / Ryan Keen / Scoundrels / Shinies (Manchester Only) / Swiss Lips/ THePETEBOX / Turbowolf / Vadoinmessico / Wonder Villains
Tickets are now on sale:
Bristol: £20
Nottingham: £20
Manchester £20
Visit http://www.dottodotfestival.co.uk/ for ticket information.
For this year's event, Manchester venues will be HMV Ritz, The Deaf Institute, Manchester Academy and Sound Control, all dotted around the Oxford Road area.
To coincide with Record Store Day celebrations on Saturday 21st April, Dot To Dot are offering the chance to get tickets for the Manchester event a reduced price of just £15 (+BF) with the purchase of any Record Store Day 2012 release. Tickets at the reduced price will be available to purchase over the counter at Piccadilly Records or The Deaf Institute (where you'll need to show your Record Store Day purchase). Please note, this offer will be available on Record Store Day ONLY, so don't dilly dally)