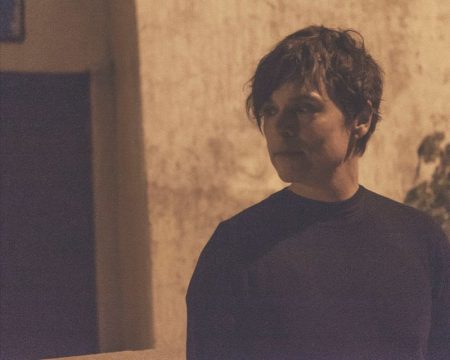 It's not often we feature someone on Silent Radio on the strength of just two singles, but Alex Henry Foster's two singles 'Summertime Departures' and 'The Hunter' were so extraordinary in their musical scope we had to delve in. Think Sonic Youth meets Slint at a party hosted by Mogwai, and you're on the right lines, but yet he manages to twist his epic guitar soundscapes into tunes which resemble the opening credits to a thriller or a true crime drama series – overflowing with musical suspense and dynamics.
Foster is also a renowned human rights advocate, being an active pubic speaker on everything from racism to street gangs and has worked with Amnesty International on several campaigns. He also co-runs the record label Hopeful Tragedy, has set up his own multi-media centre The Upper Room Studios in a converted church with his bandmate.
The singles released so far have been accompanied by a music videos which are equally as cinematic in their scope, with the short film accompanying 'The Hunter' clocking it at a whopping fourteen minutes and running like a one-off episode of a Scandinavian thriller (even though it was shot in the wilderness of Canada!)
Although the album isn't due until 1st May 2020 we grabbed a few words with Foster to find out more about this intriguing new solo project:
 Your visuals which have accompanied the first two singles 'Summertime Departures' and 'The Hunter (By The Seaside Window)' are amazing. How easy or difficult was it for you and your film maker Jessie Nottola to make these films?
For me, may it be about crafting sonic textures, defining visual art, or turning a specific vision into a cinematic motion, the focus always remains about the emotional singularity of those creative supports, about implementing and sublimating the complexion of a project I am looking forward to sharing with others. Even if the project has been inspired by an intimate and personal moment, the potential collective connections and open invitations for others to redefine the nature of what I'm communing with them is what I honestly contemplate, and it's especially true when it is about of a film.
That's why there's no such thing as "easy" or "difficult". For me, it's about trusting my instinct rather than polishing my artistic ego. There's no absolute, and that's what I shared with Jessie. Beside our deep affection for Africa, we share the same vision of getting out of the way when the songs or the images want to emerge in their unique ways. I know it all sounds pretty philosophical, but it's really how I see it all. There's always a thousand perspectives, but only one story and the emotions it carries.
The video which accompanies 'The Hunter' is more like the opening sequence to a crime thriller or spy film, as the song itself is over fourteen minutes long, how did you and Jessie come up with the idea for that mini film?
I have to give all the credit to Jessie. Being obsessed with the song, he literally kept pressing the idea of giving it a visual stream that would carry the different layers of emotions it is made of – all the symbolism, the paradoxes, and the reflective imagery. I was a bit reluctant at first. I didn't want to turn the song into something too polished or produced. The line between creative ambition and the incarnation of a vision frequently gets blurred as we dwell on a project such as The Hunter, so I didn't trust myself in that regard…
My perception changed when Jessie came to visit me in Tangier, where my album "Windows in The Sky" initially took shape. Jessie kept bringing making a video for "The Hunter" in our conversations. We shared about the nature of the song. He mentioned David Lynch – whose work we both adore – and I decided to give carte blanche to Jessie. I didn't want to distort his personal and intimate link with the song by even only guiding him. But to be honest, it wasn't that much of a gamble, as I not only trust Jessie's instinctive passion but also because I admire him as an artist. Again, there is no absolute, only the invitation to connect. This time, the communion would take the form of Jessie's perspective, which for me was a real honor and blessing.
Also, it looks freezing in rural Canada where it was filmed! How did you manage to create such a mesmerising video in such harsh conditions, what did you use? 
Welcome to Canada! The beauty of wildlife and its freezing madness! What made it all possible was truly the actors and the dedication of the technical team members, along with blankets and hot coffee. The rest is exactly as you see it in the film. And even though we provided under layers and tried as much as possible to juggle with the unwillingness of the Nordic weather to collaborate with us, we had to let go on that uncontrollable dimension of the production. We used it instead as one of the film's "invisible" components. It became the surrealist reflection of the implacable measure of time, the elusive nature of self-preservation and illusionary make-believes. I think the wild and uncollaborative weather conditions kept everyone atoned with the song and kept us honest in that regard. There wasn't any place for personal ambitions and self-serving creative orientation. Jessie, the technical team members, and the actors were absolutely incredible, in all possible ways. Beautifully benevolent and astoundingly generous.
You relocated to Tangiers to record your album, following the loss of your father, as someone who's lost their dad too, I know how you need to try and make sense of the world again. So what did Tangiers give you during that difficult time?
Oh, Tangier! I honestly owe everything that happened in my life to the city. My time there gave me a totally renewed and redefined way to live, free and emancipated from my own illusionary need for control and absolute. I was basically emotionally dried up when I got there, disconnected from everything, from myself to the others around me. I was without much purpose but the sake of keeping on. The nature of time doesn't have any restrictive instance in Tangier. There's no such concept as time, not as we know it anyway. It's located right between the desert and its mysticism and the sea and its quietness. Its feet remain in the African continent while its spirit roams over the European coast just a few miles away. It's inspired by Spanish Andalusia and Maghrebi Arabic. There, Christians, Muslims, Jews, and Catholics share the same table. People speak French, Spanish, Arabic, English. it's a world in and of its own, open to the world and undefinable. To understand what Tangier has given me, one must walk in its streets, commune with its people, dwell on the moment rather than try and emulate its essence. It's a strange way to answer your question, but this is what makes the most sense for me… It's a city with a profound connection to the notion of "now".
'Windows In The Sky', your debut solo album is out 1st May, recorded in Tangiers in a small home studio you set up there, as not many people with have had the experience of recording in Tangiers, what was a typical day in the studio like?
"Atypical" and "unpredictable" would be the best way to describe a day in studio. In Tangier, life happens in the streets and houses are built on top of one another. There's not much soundproofing, if any, so you can hear kids playing football, merchants screaming, people stopping their cars on the side of the roads to talk with friends sitting on city benches, call to prayers from mosques, etc. It's not really what we can portray as being sound-recording-friendly…!
But the beauty of being surrounded with so much life was for me really inspiring. There was an immense human dimension involved in my personal and creative journey. It urged me to capture moments without being a slave to perfect recording conditions or bothering for the ultimate technical requirements as was the case before.
The notion of "studio" became for me a walk. It was looking at people's interactions, as much as writing in a tiny notepad, staring at the sea from a roof terrace and allowing myself to "be" within the moment regardless of the equipment I had to do so. I've learned a lot about creative freedom and spontaneous sparks, about being attentive to my environment and being disposed to be surprised by the simplest of all things. It completely transformed the way I write and create.
There's so much going on in your songs, with epic instrumentation, keyboards, guitars, brass, strings what did you use to record the album, Cubase, Pro Tools etc or did you go analogue? 
I recorded everything using Pro Tools. Most of the album is the result of different live sessions recorded between my modest studio in Tangier, my professional studio-church in Quebec (Canada) and in my home located in the mountain of the Virginia Highlands where I recorded most of the vocals.
I first envisioned using only analog material, but since I wanted to use the environment I was in as a part of the creative process, moving from a location to another kept the songs free. Therefore, Pro Tools was definitely the way to go. I'm not a purist of the methods, the soul always prevails on every aspect involved, from crafting noise to recording songs and sharing the result of it all when I believe those songs need to grow away from me.
Your sound is amazing, the two single released so far, both have such a huge expansive sound, I can hear elements of Slint and Sonic Youth in there. What were your inspirations growing up and also whilst writing the album?
Growing up, The Cure (circa the "goth" years) was really important for me. "Pornography" is one of my top 5 favorite albums to this day. The industrial band Skinny Puppy also had a special place in terms of sonic explorations. Minor Threat and Fugazi were daily spins. Public Image Limited, as well as Tortoise (that followed the great Slint), the Velvet Underground and Nick Cave were among the bands I couldn't live without and who would shape the individual I am now.
But I guess the one artist who's been the most influential on me is Glenn Branca, and of course, Sonic Youth and Swans who followed his emancipating steps. Patti Smith and Leonard Cohen would come a little after, bringing the moving elements of honest poetry to the freedom of music, may it be called noise, experimental, no wave, post-rock, or whatever…
How are you coping during the pandemic, and what are you doing to keep busy?
Since I have my own label and multimedia company, I made sure my friends who are working with me and their families are safe and financially stable. It's been my main focus ever since I got back from my European tour on March 14.
What is Montreal like at the moment?
The city is in lockdown, so it's quite strange and surreal to see the usually busy and festive nature of Montreal being so quiet, deserted. Spring usually sees everyone' winter isolation break loose. So if we are asked to remain inside for another couple of weeks, it will be difficult for authorities to contain people in without any punitive measures. Let's hope we'll go through that very grim moment without too many people being gravely sick or worst.
What's next for you in terms of writing and touring (when we can all go out again, of course)?
So far, my upcoming European tour scheduled from late May to late June isn't canceled, but it is only a matter of time before it is, I think, just like all the summer festivals I was booked on. We already had several options for fall, so it's still on. It will allow me to be more creative regarding whatever opportunity comes my way. Again, I'm one of the lucky few, even though releasing an album in the middle of this ain't really what others would call lucky.
But since I'm grounded at my label's facilities, considering that I can't cross the US borders to go back home in Virginia, I use my rehearsal space, a former Catholic church pretty reorganized as a 1000-capacity venue, to support my album release via all sorts of live streams. And I will start working on a new record right away, which is quite an incredible privilege considering the terrible collective situation we are all in.
Alex Henry Foster: Windows In The Sky  – Released 1st May 2020 (Hopeful Tragedy Records)