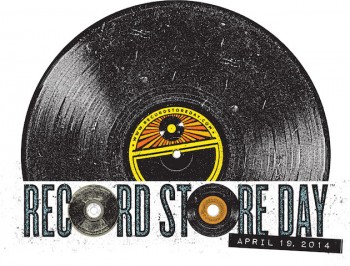 Here's a bit of a low-down on some of this Saturday's RSD action in Manchester.
INSTORE AT PICCADILLY RECORDS
DJ sets:
12pm-1pm: Ben Ward (Sways Records)
1pm-2pm: Eccentronic Research Council ft. Maxine Peake
2pm-3pm: Nev Cottee
3pm-4pm: The Emperor Machine
4pm-5pm: Smoke Fairies
Exclusive live performance:
5.30pm-6.00pm: Smoke Fairies
COMMON AND PICCADILLY RECORDS PRESENTS THE 3RD ANNUAL RECORD STORE DAY LIVE!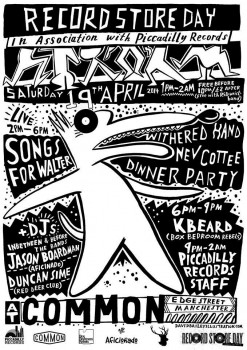 Common have teamed up once again to host Piccadilly Records' official Record Store Day live event in their very comfortable surroundings.
Presenting to you a whole musical feast of live bands, disc jockeys, music lovers, great beers, super vibes and tasty food all in the honour of great music and the adoration of one the best record shops in the North West!
Specially handpicked bands will play live before your very eyes and record label peoples will be spinning large bits of plastic into the early hours to celebrate the event they call Record Store Day.
Live music, 2pm-6pm from
Holy Mountain
https://soundcloud.com/holymountain/great-monkey-1
Withered Hand
http://witheredhand.bandcamp.com/album/new-gods-lp
Dinner Party
https://myspace.com/dinnerpartyband
Songs For Walter
https://soundcloud.com/red-deer-club/songs-for-walter-competition
Nev Cottee
http://nevcottee.bandcamp.com/album/stations
DJ sets between bands (2pm-6pm)
Jason Boardman (Aficionado) and Duncan Sime (Red Deer Club)
6pm – 9pm
KBeard (Box Bedroom Rebels)
9pm – 2am
Piccadilly Records Staff
HOW MUCH? Free before 10pm/£2 after (free with RSD wristband) / 10% off food with RSD/Piccadilly Records wristband)
SOUP KITCHEN: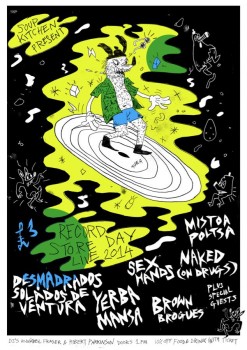 Soup Kitchen's Record Store Day live event is now into its 3rd year and a staple on the music scene calendar.
Jammed in-between Eastern Bloc, Piccadilly Records, Beatin' Rhythm and Vinyl Exchange, Soup Kitchen is a great place to celebrate RECORD STORE DAY.
Live music from:
PINS
https://soundcloud.com/pinsmusic
DESMADRADOS SOLDADOS DE VENTURA
http://desmadradossoldadosdeventura.bandcamp.com/
SEX HANDS
http://sexhandsband.bandcamp.com/album/season-1
NAKED (ON DRUGS)
http://nakedondrugs.bandcamp.com/track/death-dance
MISTOA POLTSA
http://mistoapoltsa.bandcamp.com/album/mistoa-poltsa
BROWN BROGUES
https://soundcloud.com/stolenbodyrecords/sets/brown-brogues-nobody-dies-in
DJ sets from ANNABEL FRASER & ROBERT PARKINSON
WHEN? HOW MUCH? DOORS 1PM / £3 ON THE DOOR & 10% DISCOUNT OFF FOOD AND DRINK WITH GIG TICKET PURCHASE
RECORD STORE DAY PARTY at THE DEAF INSTITUTE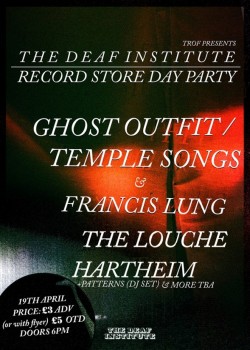 The Deaf Institute are commemorating RSD by collating a bill of some of the best emerging bands in the city for a special, super cheap day for Manchester's music lovers to come together and party. Alongside the bands they'll have a vinyl swap-shop, craft stalls, and some one-off on the day releases to give away, but who's playing?
GHOST OUTFIT
http://ghostoutfit.bandcamp.com/releases
TEMPLE SONGS
http://templesongs.bandcamp.com/
FRANCIS LUNG
http://www.faehersson.com/
THE LOUCHE
http://thelouche.bandcamp.com/
HARTHEIM
http://www.thisistruluv.com/hartheim-yellow/
WHEN? HOW MUCH? Doors at 6pm £5 // £3 advance or with a flyer on the day
CAREFULLY PLANNED ALL DAYER at GULLIVERS, NQ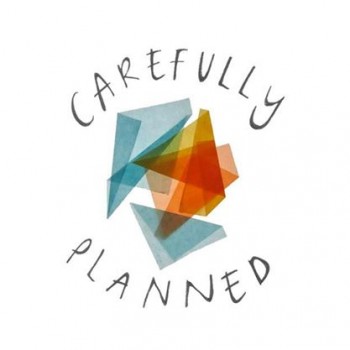 Manchester favourites Carefully Planned return to Gullivers on Record Store Day with another stellar line-up for their 21st all dayer.
5.15pm
Piles of Clothes
https://soundcloud.com/pilesofclothes
6.00pm
Gaunt Story
http://gauntstory.bandcamp.com/
7.00pm
Screen Wives
http://screenwives.tumblr.com/
8.00pm
Glass Ankle
http://glassankle.com/
9.00pm
Quadrilles
http://quadrilles.bandcamp.com/
Clubnight 'Violet Femmes MCR' will be taking over from 10:00pm for a night full of alternative 80s & 90s for the lost generation.
HOW MUCH? £3 on the door