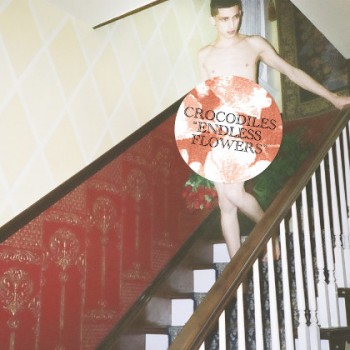 After giving the super summery Sunday (Psychic Conversation #9) away for free last month, San Diego's Crocodiles have revealed more music from their forthcoming album 'Endless Flowers' with a spoof infomercial album teaser. They have also unveiled the record's slightly controversial artwork & an appearance at Field Day Festival.
The first single from the album, Sunday (Psychic Conversation #9), with b-side featuring the band's version of The Kids' Fascist Cops, is available digitally and on limited edition 7" vinyl now.
Crocodiles have existed in various incarnations since 2008, evolving from the original core of Brandon Welchez and Charles Rowell into the five-piece we see today.  With two previous albums, 2009's Summer Of Hate and 2010's Sleep Forever, the band garnered righteous praise for their intoxicating blend of scuzzy, surfy, lo-fi noise pop and their thrilling live shows. But, finding themselves having to make a hasty exit from their San Diego hometown last spring, they headed to Europe, landing in Berlin to rehearse and record their superb third album, 'Endless Flowers'.
LIVE DATES:
31 May Berlin Bi Nuu
01 June Amsterdam Paradiso
02 June London Field Day festival
05 June Paris Nouveau Casino
07 June London The Royal Princess Cruise Liner Boat Party!
Crocodiles are: Brandon Welchez (vocals, guitar), Charles Rowell (guitar), Marco Gonzalez (bass), Anna Schulte (drums), Robin Eisenberg (keyboards).
Crocodiles' 3rd album 'Endless Flowers', is released on Souterrain Transmissions on June 4th.
Watch the album teaser here: