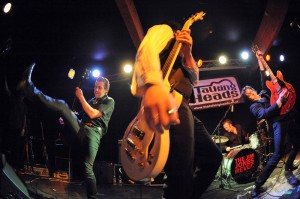 – CLUB ACADEMY, MANCHESTER –
The hardest working rock n roll band in the UK  are back in Manchester tonight, and the plaudits and column inches that they have been garnering have attracted a sizable crowd in the Club Academy.
I think in some ways the name, or rather the 'Revue' part is a misconception, to my mind a Revue band would be covers band, playing mild versions of familiar songs to an apathetic audience of middle aged diners.
It's true that the Jim Jones Revue do play some covers, but they play them with such energy, enthusiasm and excitement as to wring the bloody neck of the song and beat it into submission. Not only that, but the sheer passion and commitment that goes into every show breathes life anew into songs that we know so well. A perfect example of this is Elvis' Big Hunk O Love. It's delivered with such primitive raw energy and aggression that it's like hearing the song delivered by Little Richard backed by the Stooges.
Jim Jones is like the demented fire and brimstone preacher, losing himself mid sermon, the audience the fevered, febrile congregation.  "Do you want some more??' Yeah? Let me hear you say 'YEAH! And this time put all your energy into it, and so will we!"  The band then launch into 'Rock N Roll Psychosis', from their self-titled debut. Covers aside the set is largely culled from their eponymous debut and from their second long player 'Burning Your House Down'.
'Dishonest John' is the most recent single from Burning Your House Down, and live it absolutely crackles, kicking off with a choppy guitar riff and a killer piano intro, with Jim Jones hollering over the whole raucous two minutes.
If you want to be critical, it would be fair to say that the Jim Jones Revue aren't breaking any new ground, but as their live show attests we still need great rock n roll bands, and we want to shake a tail feather and witness a performance that delivers it with the conviction and honesty that the Jim Jones Revue have in spades.