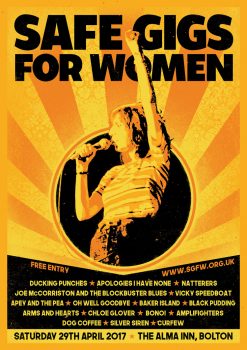 Safe Gigs For Women (SGFW); an initiative established by regular gig goers with the purpose of creating a safer environment for women at gigs, have announced the line-up for their first free all-dayer Northern event at The Alma Inn in Bolton on Saturday 29th April 2017. The line-up includes Ducking Punches, Apologies, I Have None, Natterers, Joe McCorriston & the Blockbuster Blues, Vicky Speedboat, Oh Well Goodbye, Baker Island, Arms & Hearts, Black Pudding, Amplifighters, Chloe Glover, Feed Them to the Forest, Dog Coffee, and Silver Siren.
With this being their first Northern event, SGFW are aiming to encourage people to look out for each other, with the message that we can work together in order to prevent sexual harassment and assault in live music.​ Tracey the founder of SGFW, who herself has been sexually assaulted while attending a gig, is coming up to the event and will be there to promote awareness of the organisation. For more information on this organisation and its aims visit sgfw.org.uk.
This is going to be a great event, so go show your support.