Edge of the Sun is Calexico's ninth studio album. For those who don't know them, Calexico is formed by core founding members Joey Burns and John Convertino plus a varying line-up of musicians for recordings and tours. Burns and Convertino met in Los Angeles in the 1990s and started playing together in Giant Sand with Howe Gelb. In 1997 they left Howe Gelb and became Calexico. Calexico as a band developed both in urban L.A. and 'Mexican' Tucson, Arizona, with migration and border issues playing a big part in Calexico's songwriting and atmospheres. Burns and Convertino too have a family history of migration, as they have Irish and Italian origins, respectively. It is not a coincidence that one of the main features of this band is openness to other cultures and appropriation of elements that fit in their artistic project.
The key to their success is undoubtedly their curiosity and eclecticism, despite having a very typical Calexico sound that has gained them the labels of 'desert rock', 'Tex-Mex' and 'Americana', with their sophisticated blend of Ennio Morricone, mariachi trumpets and guitarrones and Nashville pedal steel guitars. But Calexico is also electronica, dub and jazz, cellos and violins. They have collaborated virtually with every musician you can think of and have produced a myriad of live albums, soundtracks, covers, remixes and DVDs and contributed to compilations, tributes and charity gigs. Nothing can stop Calexico.
For this album, Burns and Convertino sought inspiration in Mexico City in the historic borough of Coyoacán, where they started writing Edge of The Sun. By the way, Calexico is a city on the border between California and Mexico and, near Calexico, there is also another city called Mexicali.
The expectations for this album were high, given Calexico's enthusiastic interviews about the Mexico City inspirational experience and the collaborative and eclectic nature of the album. Contributors to the album include long-time friends Neko Case, Sam Beam (Iron & Wine), Amparo Sánchez, Nick Urata and Tom Hagerman (Devotchka) and newer acquisitions Ben Bridwell (Band of Horses), Carla Morrison, Gaby Moreno, Greek band Takim, Pieta Brown and Greg Leisz. Burns' brother John and keyboardist Sergio Mendoza also contributed lyrics and arrangements on a few songs.
I am a big fan of Calexico, I have been listening to them since 2000 and I've travelled many places in Europe to see them live, with immense pleasure. I had no idea of what to expect from this album, given that after the spectacular early material produced up to Feast of Wire (2003), the following albums, with the exception of Carried to Dust, which I found equally impressive, did not seem to be as inspired. The album is cohesively held together by the themes of loneliness, love and hope, but no particular lyrics stuck in my head except for those of 'Miles From The Sea' about swimming and drowning.
In general, after a number of listens, I feel that the complexity, inspiration, variety and creativity I loved in Carried to Dust, Feast of Wire and Hot Rail do not inhabit this album. With the exception of 'Bullets and Rocks', 'Moon Never Rises', 'Miles From The Sea' and 'World Undone', the rest of the songs made me think that this is not Calexico's best release.
'Bullet and Rocks' and 'World Undone' are excellent examples of Calexico's best songs, with complex layers of guitars, jazzy horns and Convertino's magnificent drumming. 'Bullet and Rocks' features a wonderful parallel singing of Burns and Sam Beam, with a dark hypnotic atmosphere enlightened by a hint of harp, electric guitars, skilful percussions and a solid set of background vocals. 'World Undone', played with Takim, also gives us back the best of John Convertino's mastery at the drums, with his delicate creative touch, and an interesting mix of acoustic guitar, atmospheric keyboards and Middle Eastern sounds, including that of the kanun, a traditional string instrument which looks like an ancient pedal steel guitar. My other favourite track is the irresistible 'Moon Never Rises', a sort of slow ska-rhythmed song enriched by the sensual voice of Carla Morrison, elegant trumpets and an accordion. In the romantic 'Miles From the Sea', with Gaby Moreno, we can eventually hear Burns' seductive voice – which, unfortunately, is not given enough relevance in this album – and beautiful melancholic lyrics, which remind me of the precious 'Si Tu Disais'.
'Tapping On The Line', with Neko Case, is another catchy tune that does not, however, shine due to its predictability. 'Cumbia de Donde', is a typical Calexico-sounding song, with mariachi styled trumpets, bass lines and back vocals. Despite Amparo Sánchez's intense singing, this song does not impress either, as Calexico played similar songs, and better, in previous albums (see 'Güero Canelo', for example). Same goes for 'Beneath The City of Dreams' and 'Coyoacán', another typically Calexican instrumental track seasoned with Mariachi elements and twangy guitars that would be great if we hadn't heard their previous albums. The rest of the songs belong to the realm of pop really, and do not add much to Calexico's contribution to music, and I'm referring to the opening track 'Falling From The Sky', the bland 'When The Angels Played', 'Woodshed Waltz' and 'Follow The River', which all feature narcotic rhythms, chords, guitar playing, drums and singing. I am not able to comment on the rest of the songs and the artwork in the deluxe edition as I have the proletarian version of the album and no booklet, apologies.
As someone who has been following the Calexico adventure for so long, it's hard for me to say it, but my opinion is that in this album the usual heights of Joey Burns' mesmerising vocals and John Convertino's sophisticated drumming are completely lost in too many songs that do not represent who Calexico are as musicians. Where are Calexico going? They seem to be resting on the laurels gained with the experimentation and intensity of The Black Light, Hot Rail and Feast of Wire, records that even after decades still sound masterpieces.
I hope the next album will be more inspired, more innovative and will be released because they actually have something new to say, rather than as a result of their 9 to 5 job.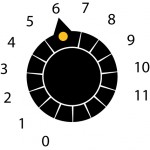 Release Date 13/04/2015 (CITY SLANG)
Calexico Official | Facebook | Twitter | Soundcloud