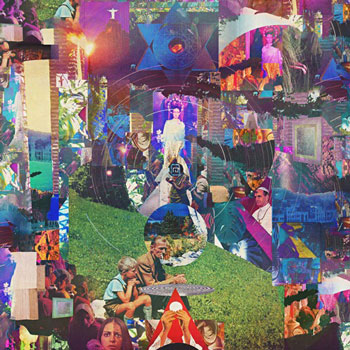 Vinyl Williams AKA, Lionel Williams is a Los Angeles based artist and musician. His collage art & psyche-pop music fuses vast landscapes, multi-religious symbolism, and the supernatural into a paradoxical whirlpool — mystical scenes of simultaneity.
Williams unites colour, lustre and vibrancy in his creations, as well as looking towards "tangibles of the intangible, sensory identity of the unidentifiable, poetic process (the opposite of mechanical process), phenomena of the mind, phenomena in general."
Themes are interwoven, ideas and mediums combined to conjure a truly unique and intuitive visual and sonic experience, an effect which was highlighted in an exhibition of Williams' work in Berlin in January 2012 named 'Let The Sun Shine In' As well as having the opportunity to exhibit his mesmerising collages, Williams partook in a series of improvisational sessions with the likes of Electrelane's Verity Susman, Annika Henderson (Anika), Jochen Arbeit of Einstuerzende Neubauten, Travis Stewart of Machinedrum & more, to project the full synaesthetic effect of his visions and sounds. From there, Williams and his band mates ventured even further from home, embarking on a journey that took in the sights and sounds of S. Korea while supporting Toro Y Moi on tour, as well as an exhibition which included 2 of Lionel's artworks.
Williams is now set to unveil an EP entitled 'Ultimate World' – a collection of songs recorded in the high peaks of Utah – through Warmest Chord, a record label who have released the likes of Slow Talk and Wild Nothing, and a label that, like Williams, emanates the close relationship between the visual and the sonorous. The EP will comprise four exclusive new songs, plus two tracks from his downloadable album Lemniscate and a bespoke limited A3 screen print designed by the artist himself. Three songs are available to buy individually, with the fourth song and two bonus tracks only available with a screen print purchase.