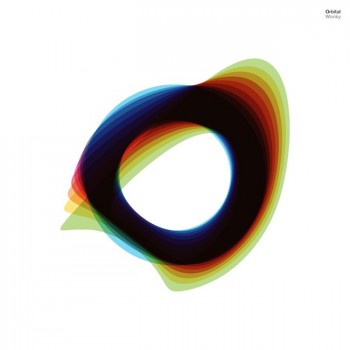 'Wonky' is the work of true masters in their field. Or in any field (speaking geographically). Many will be familiar with Phil and Paul Hartnoll's story, as prominent producers of early 90's ambient techno. Lying on an Ibiza beach as the sun comes up, listening to 'Belfast', was high on everyone's list of things they'd rather be doing. St.Etienne, Moby and The Orb were on the same wavelength, although rave classic 'Chime', with it's acid tweaks and bittersweet chords invited them to another party altogether, attended by the likes of Underworld, Leftfield and The Prodigy.
3rd and 4th albums 'Snivilisation' and 'In Sides' boggled many a frazzled mind with blissfully layered bloops and bleeps and intricate but delicate beats, married with stomping epic dancefloor anthems such and 'The Box' and 'Crash and Carry'. Their musical arsenal fully prepared them to astound many a festival goer, providing both grandiose floorfillers and beautiful chill-out room moments that foster togetherness.
So, Phil and Paul… a new album after a 8 year break? No pressure then. Listening to 'Wonky', it appears that they are keen to seamlessly melt the music that has brought them here, with the contemporary work that is currently inspiring them… and to show all of their workings out. The timing is impeccable. I shall refer you to the LCD Soundsystem cycle of modern music; people seem to be entering a new phase: "I hear that you and your band have sold your guitars and bought turntables". Just replace the word 'turntables' with 'a Maschine sequencer'. Only the return of some old masters can make the transition complete.
'Wonky' starts with 'One Big Moment'. Familiar gentle chord stabs, chimes, and samples of wise old men saying things that we need to hear, build layer after layer before breaking down into a simple breakbeat, welcoming us back into a familiar world. 'Straight Sun' offers you a drink and shows you to the dancefloor, where all your mates are waiting. First single from the album 'Never' helps you settle in with a blissful Ibiza riff, before the inspired introduction of haunting vocals from Zola Jesus in 'New France' injects a cool breeze. Hands in the air and whistles at the ready.
Now it's time to get a little dark and dirty. Thrashing guitars and post-dubstep beats tells us they are more than willing to mingle with their contemporaries. 'Stringy Acid' describes itself, reminding us of their roots. 'Beelzedub' offers a retort in the conversation between old and new, with possibly the heaviest moment of their careers, sounding like 'Satan' remixed by Pendulum. In my opinion, it's not one of the best moments on the album (although I'm no Pendulum fan either).
Vocals from Birmingham grime MC Lady Leshurr on the title track add another unexpected dimension, twisting and turning the screw until it can tighten no further. But it's the final tune 'Where Is It Going' that really caught my attention. The slow but interesting fazed buildup, the introduction of a serene keyboard riff, washes of cinematic background sweeps and an understated drumbeat take a brief pause… it waits… it creeps higher… and then it launches you into a hedonistic tribal breakdown. "TUNE".
'Wonky' certainly benefited from having the volume cranked up as high as possible. The masterful ebb and flow of this album has derived from many years stood side by side onstage in fields, wearing dark-rimmed glasses that have lights on the arms, building massive crowds into a frenzy. The final tune acts as an encore that leaves you wanting more, whetting your appetite for whatever Orbital live show that you can get yourselves to.
'Wonky' is released on April 2nd.