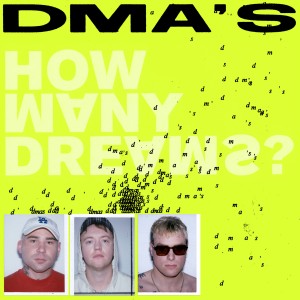 With a packed-out schedule and the entering of a new electronic era DMA'S are ready to impress. Embarking out to festivals such as Y Not, Live at Leeds and Tramlines festival this summer, as well as a run of tour dates across the UK in April. The album couldn't have come at a better time. 
The Australian trio consisting of Tommy O'Dell (vocals), Matthew Mason (lead guitar and backing vocals) and Johnny Took (acoustic guitar), blending seamlessly together to create albums like 'The Glow', 'For Now' and 'Hills End'. We've seen the boys venture through an indie genre into a more alternative indie rock as the years have gone by. Departing from this style of music they've begun to play with and explore a new sound they hope the fans will love as much as they do. 
The new album 'How Many Dreams?' has a heavier production side in which we see the boys bring in a more electronic, rave style beat to their music. Yet still with elements of their 'older' stuff as some would say there's something in there for everyone. Having already released four of the 12 tracks over the course of mid 2022/2023, we really got a feel for what was to come. 
Tracks like 'Olympia' provided an insight into the dance music they've been experimenting with. It felt very clublike yet still a sure crowd pleaser. It allows people to have a good time and just let go. Placed as the second track on the album it ramps up the exciting energetic tone set out by the first and title track of the album 'How Many Dreams?' It kicks off everything with a bang and is most definitely not something you can ignore. With around a minute and half of almost DJ style beats we see just how much the band enjoyed creating and playing with the new features. 
I found as I progressed through the tracks that not only was the production insane the vocals were reaching a new level too. The versatility of the upbeat, bouncy tracks to the more relaxed and chilled ballads sent me on a journey of mixed emotions and feelings. 'Dear Future' came in around fourth on the album giving us a moment to have a comedown from the buzz of the last few songs and fed us with a song that tugged at the heart strings. It provided us with a feeling of previous songs like 'Emily Whyte' and 'Lay Down.' It held a heavy, almost ballad feel about it with an intense orchestral beat. Definitely a top song on the album.
Another stand out song for me was 'Jai Alai.' With a piano in the forefront of the melody before allowing in the acoustic guitar, it felt very surreal. It engulfs from the moment it began and I can already picture how well this will go down live. Complementing the vocals of O'Dell perfectly as he expresses a feeling of fixing and finding themselves. 
The ending track 'De Carle' has something so comforting yet exciting about it. It made me feel as though I had been immersed in the world of 90's club culture whilst at its peak, invoking images of bucket hats, glow sticks and of course the iconic 'smileys.' I'm sure I can't be the only one who will have this instant reaction either. It's almost quite psychedelic. I felt a trance take over the moment the song began and as it came to end, I felt myself craving that little bit more. 
Although different from what people may have initially expected from the trio, I can picture it taking them further into fame. A newfound genre and one I'm sure they will continue to explore in future projects. 
DMA'S – How Many Dreams?: Out 31st March 2023 (I Oh You Records)