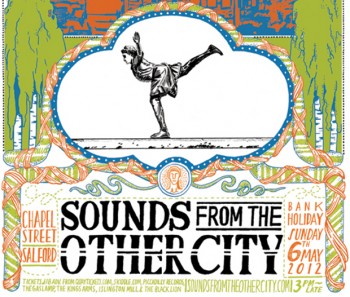 Salford's finest festival of new music, Sounds From the Other City, returns for the 8th time on Bank Holiday Sunday 6th May with its freshest line up yet. For 2012, established Manchester promoters like Faktion (who've put on Demdike Stare, Blackest Ever Black label showcase), Now Wave (Sleigh Bells, the XX, Money, Alt-J) and Hey! Manchester (Jens Lekman, Momus, Steve Reich) will be joined by indie tastemakers, Drowned in Sound, to present a huge array of talent on 14 stages, including Swedish ice princess, MOLLY NILSSON, Kompakt records WALLS, Wire magazine favourites EKOPLEKZ, queer super group COVERGIRL and the beat-driven deluge of Ghostly International's (Dabrye, Matthew Dear) SHIGETO.
Bands which we expect will make waves from here on in include Maria Minerva. Releasing music on Amanda Brown's taste-making Not Not Fun label, this critically acclaimed solo artist makes an intriguing mix of pop and messed-up sculptured sounds like Ariel Pink or James Ferraro. Check out "Pirate's Tale" from last year's acclaimed Cabaret Cixioux. 
The new sound of the UK is enshrined in This Many Boyfriends snappy garage sound – we especially recommend, "I Don't Like You". Regal Safari meanwhile are Brighton's answer to Fourtet, serving a smorgasbord of glitch, bleep and Mount Kimbie-ish irresistible repeat listenin. Listen to "Only" for a sample of their inimitable style.
Folk fans will enjoy the impassioned strains of Leeds' rising star and Jeff Buckley aficionado, Paul Thomas Saunders, and Sub Pop's most intriguing talent,  Swedish Loney, Dear. A late addition to the programme comes courtesy of Verity Susman, classically trained choirmistress, and the former lead singer of all female prog superstars, Electrelane, offering one of her first Manchester outings as a solo artist.
Between acts, there's a host of stuff happening from performances for one in phone boxes to vignettes by Brooklyn's cat masked creative, CHERYL and up and coming art stars, PANOPLY.
80 acts in 14 venues and a four-room after-party spectacular at Islington Mill not to mention all the mad stuff in between will set you back just £18. Get your tickets now from Quaytickets.com, skiddle.com or in person at Piccadilly Records, The Gaslamp & Islington Mill
Line-ups subject to change, click here for more www.soundsfromtheothercity.com
~ KEY FACTS ABOUT THE FESTIVAL ~
~    Its bigger. The event has grown from 6 to 14 stages since 2005.
~      A bit like the Camden Crawl, it's relaxed and fun day out starting at 3pm and running until 4am. The afterparty starts at midnight.
~     Ticket holders pick up a wristband, which gives them access to 14 venues which include historic churches such as St Philip's, social clubs, art centres, like Islington Mill and famous pubs like The King's Arms, which has just been bought by Paul Heaton from The Beautiful South!
~      Each venue is 'curated' by a local promoter, many of whom are professional promoters (ie it's their full time job, thus this is not a shoddy lineup). Promoters specialise in range of genres such as underachievers (indie) Faktion (avant garde / bass), Now Wave (NME / sounds of the near future), Mind on Fire (forward thinking bass /dub).
~      Huge pop acts like Marina and the Diamonds and the Ting Tings have played at SFTOC as well as haute alternative artists, such as James Ferraro (Wire Magazines' top album of 2011).
~      The event offers a snapshot of what is happening in musically in Manchester having featured emerging stars like Wu Lyf and Money long before the hype.
~      In 2009, Radio 1's new music main man, Huw Stephens, hosted a stage with Marina and the Diamondsand more.
~      The festival can accommodate around 1500 people, and we have turned away the likes of Thurston Moore (Sonic Youth) for not having a ticket (sorry Thurston..).
~      Genuine underground event in the heart of the city (Salford) where the BBC has relocated.
FULL LINE UP / 2012
SFTOC – Band Locations
THE CRESCENT
– 100% Beefcock & The Titsburster
– Dead Sea Apes
– Monster Island
– Bad Hammer
– Super Luxury
THE OLD PINT POT (UPSTAIRS & DOWNSTAIRS)
Mind on Fire Collective & This City is Ours
LIVE
– Shigeto
– Lapalux
– Debian Blak feat. Alvin Lee Ryan
– Ghost Mutt
– Acre
– Alphabets Heaven
– From The Kites Of San Quentin
– Gogo Penguin
– Patterns
– King Capisce
– Day For Airstrikes
– Borland
DJS
– Agent J – Groovement (DJ)
– Danny Drive Thru (DJ)
– Mind On Fire DJs)
– This City Is Ours DJs)
– Anthony (God Don't Like It, LDN)
ALBERT MILL
Panoply Sound Stave
The Volkov Commanders present a series of audio and visual delights crafted by hand picked musicians and artists. Live sound! Incredible costume! Video and performance! Dancing!
ISLINGTON MILL
Now Wave & Off with Their Heads
– The Babies
– Pandr Eyez
– Verity Susman (Electralane)
– Keep Shelly In Athens
– The Black Belles
– Sunless 97
– Au Palais
– Fear Of Men
– Pins
– The ABC Club
THE ANGEL CENTRE
LIVE
– Daniel Land & The Modern Painters
– Easter
– Butcher The Bar
– Greetings
– Suttree
– Seamen
– Frazer King
– Rapid Pig
READING
– Tom Jenks
– Socrates Adams Florou
– Chris McCabe
– Neil Campbell
– Stephen Waddicor
ST PHILLIPS CHURCH
Hey! Manchester
– Loney Dear
– Stuart McCallum
– Paul Thomas Saunders
– Withered Hand
– Laura J Martin
– Joseph & David
– Stranded Horse
THE KINGS ARMS
Comfortable on a Tightrope
Upstairs
– Molly Nilsson
– The Rebel
– Please
– Brown Brogues
– Sacred//Paws
Downstairs
– Apostille
– Yule FM
– Cole Moldy
– Iñigo Ugarteburu
– Tom Settle
THE SALFORD ARMS
Underachievers
– The Lovely Eggs
– Ghost Outfit
– This Many Boyfriends
– Let's Buy Happiness
– Young Husband
– Victories At Sea
– Great Waves
UNITED REFORMED CHURCH
Bad Uncle & Hear Here present Soundtracks from the Other City
– Islet
– Teeth Of The Sea
– Peepholes
– Wode
– NASDAQ
– Well Wisher
– Vei
all acts performing one-off soundtracking sets
SACRED TRINITY CHURCH
Faktion present a Mordant Music Showcase
– Baron Mordant
– Ekoplekz
– Vindicatrix
+guests
ROVERS RETURN
Trash- O-Rama
– CoverGirl
– Daq Sabbath
– Laser Dream Eyes
– No Womb
– Klaus Kinski
– Base Ventura
– Waterworld
– Sex Hands
+ T-O-R djs and some very special guests
THE BLACK LION (Upstairs)
Drowned in Sound & Grey Lantern
– Walls
– Dam Mantle
– Regal Safari
– Eaux
– Stalking Horse
– Embers
– Shinies
– New Hips
THE BLACK LION (downstairs)
Work Them, Pop Deviant & friends
– Pop Deviant DJ #
– Work Them DJ #
+ guests