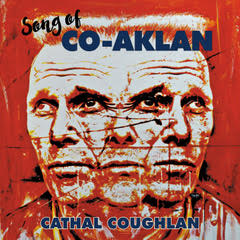 "I could listen to Cathal Coughlan sing the phone book" said DJ John Peel many years ago, and he wasn't wrong. Having done numerous Peel sessions over the years in his former bands Microdisney and Fatima Mansions, Coughlan's distinctively rich vocals won the hearts of many. Fast forward to 2021 and Coughlan's vocals still propel his sixth solo album along, with the lyrical wit and social observations still firmly intact.
'Song Of Co-Aklan' has soaring melodies which belie the fire and venom in the lyrical content, "raise your hands if you don't know what this means" Coughlan sings mysteriously in his endearing tones on the title track, whereas 'St Wellbeing Axe' has a dark rock edge spinning at its core, and songs like 'Passed Out Dog' and 'Let's Flood The Playground' also have a sense of theatrical drama to their menacing sounds.
Coughlan has morphed from being a leading light on the Irish indie scene into a songwriter not afraid to branch out into more experimental realms, whilst maintaining his poetic and astute lyrics throughout. Reunited with members of his former bands Microdisney and Fatima Mansions as well as a host of collaborators, there's hints of Scott Walker, Sparks, The The and The National in there but the unique vision of Coughlan shines through.
The first new music from Coughlan in over a decade, 'Song Of Co-Aklan' reaffirms him as one of the best, and possibly under appreciated songwriters around.
Cathal Coughlan – Song Of Co-Aklan: Out Now (Dimple Discs)